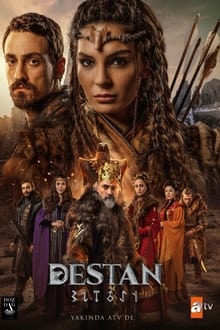 Destan Episode 3 English Subtitles
Watch Along with English Subtitles for the Full Experience!
Destan Episode 3 takes us further into the labyrinth of political power plays, heartfelt human dramas, and unanticipated revelations. Armed with English subtitles, let's navigate the stormy seas of this grand tale.
Alpagu Han's Resilience Amidst Life's Trials
With Alpagu Han's life hanging in the balance, this episode serves as a gripping theater of his resilience. Staring death in the face, he continues to be a linchpin around which the other characters pivot. Discussions revolve around his condition and the impending consequences should he not survive.
Succession and Rivalries: The Struggle for Control
Ah, the age-old debate of succession! The episode stirs the pot when it comes to identifying Alpagu's potential heir. At 9:53, characters venture into a full-fledged debate over rightful succession and virtues. Balamir's name rings prominently here. Destan Episode 3 with English Subtitles ensures that not a single nuance of these intricate dialogues is lost in translation.
The Question of Allegiance and Ransom
Just when you think the drama has peaked, the notion of ransoming prisoners takes center stage. Dağ's capture adds another layer to this dynamic as characters weigh the pros and cons of a potential ransom for Çolpan Hatun. How these allegiances shift could be the key to surviving the impending storm.
Power Moves: Marriages, Alliances, and Hidden Agendas
Weddings aren't just about love in this universe; they are also political tools. Destan Episode 3 dives deep into the concept of marrying for power and how this tactical move could shake the very roots of alliances. Not to forget, Tayangu's manipulations add a dash of spice to the drama, proving that deception knows no bounds.
An Unfolding Prophecy and Fateful Decisions
Towards the end of the episode, mystical elements come to the fore. The prophecy of a double-headed wolf is especially intriguing, adding a fantastical dimension that hints at Künata's destiny. This, combined with unfolding survival strategies, keeps the audience at the edge of their seats.
Layers of Cultural Intricacies and Rituals
The episode is rich in cultural textures, from caste distinctions symbolized by colored belts to the ceremonial aspects of engagements. The English subtitles in Destan Episode 3 bring out the essence of these cultural practices, offering a complete and enriching viewing experience.
Closing Thoughts on Destan Episode 3 with English Subtitles
From discussions on trade in the Bozkır to the intricate intricacies of power, family, and loyalty, Destan Episode 3 offers a palette of complexities. Whether it's Alpagu's contemplations or Balamir's dilemmas, the episode traverses through an emotional and political landscape that begs for your attention. Don't miss out; the English subtitles have got you covered, ensuring you catch every heartbeat of this enthralling saga.
Ready for more? So are we. Keep your eyes peeled for what's next because if you thought this was an emotional rollercoaster, just wait till you see what's coming up. Stay tuned, and don't forget those English subtitles!
Episode Title: Destan Episode 3 English