https://www.youtube.com/watch?v=DepzKaA7Q8w&t=11s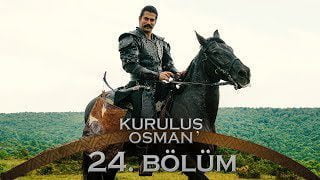 Kurulus Osman Episode 24 English Subtitles
Kurulus Osman Episode 24 English Subtitles Watch Free on KayiFamilyTV, Kurulus Osman Episode 24 English Subtitles.
At the conclusion of last week's episode, we left Osman leading the Kais in the call of "God is most great" . With his sword raised he watches as Sukutay the mongol rides out of the gates of the Kais village to deliver Osman's answer to Geyhatu.
Sukutay had two demands from Geyhatu. One was to release Alisar Bey and the other was for the Kai tribe to deliver Osman into his hands to be executed.
In Kurulus Osman Episode 24 English Subtitles, Osman response to Geyhatu's demands was to severe the head of Alisar Bey in front of Sukutay and then to send him back to Geyhatu to tel him to come and get him.
Our episode this week opens with a figure draped in a cloak running through the forest. The figure turns out to be Sofia who has escaped the Emperor of Byzantine's guards as they escort her to Istanbul. She kills her guards and makes her way back to Sogut and Kuluchaiser Castle.
Meanwhile, Osman and his new bride are on horseback and enjoying time spent together after all the turmoil of the battle with Alisar Bey and Dundar. They race their horses Alaca and Karayel in a race of love. Whoever wins loves the other the most.
Bala is so happy, for the first time she can have some quality time with Osman just together.
Osman hopes Bala and he can have many children but Bala is hesitant to agree as since her injury to her stomach she does not know if she will ever be able to give Osman children. She does promise him though that she will always be there for him. Osman promises her that one day their tent will be filled with their children's voices and they will belong to an independent Turkish State and their children will spread out throughout the land.
In the Kai village, the shock of defeat has been too much for Aygul who now spends her days mentally destroyed. In her mind she is still with her brother who visits her sick mind every day. Zohre and Dundar Bey can do nothing but stand back and watch their daughter's plight with Aygul hoping somebody will save her from herself. Dundar Bey himself has been deeply depressed and blames himself for her state of mind.
In Kurulus Osman Episode 24 English Subtitles, The village drums herald the arrival of Hazal Hatun, mother of Bahadir and Dundar Bey's first wife.
She is a strong commanding woman and takes a warriors stance wherever she goes. It is obvious when Zohre Hatun sees Hazal Hatun that they do not feel a bond of love towards each other, although Dundar Bey greets her with happiness. The tribe stands back in quiet anticipation of trouble between the two wives especially when Hazal Hatun tells them that she has come to stay for a while.
Cerkutay runs into Sukutay who demands to be taken to Balgay.
At Kuluchaiser Castle, Sofia is welcomed by Helen and Prince Salvador (who is still acting as a spy for Osman). She knows that the Emporer's soldiers will follow her and at some time she will have to defend herself. Sofia sends Prince Salvador to ask Osman if he will join with her and fight the Emperor's soldiers. Sofia tells Salvador to accept any condition Osman might offer. Sadly for Salvador, Sofia knows that he is a traitor to the infidels and she secretly plans his fate.
Osman and Bala return from their ride together to find Hazal Hatun awaiting for them. It has been a long time since Osman has seen his Aunt. She is not his favourite relative. Her son Bahadir has been forbidden to leave the nomad by Osman and she doesn't like it. Osman has left the decision of what the fate will be for Bahadir and Dundar up to his father Ertugrul. Hazal Hatun hopes that her presence and power could get Osman to release her son. She is wrong.
Osman invites all his family to the celebration of his wedding which is to be held that evening. This ceremony will give his tribe the opportunity to celebrate his marriage to Bala.
Sukutay asks Balgay to join him in fighting Geyhatu and they will deal with Osman at the same time. This alliance leaves Balgay confident in defeating Geyhatu. Kongar standing in the distance hears their conversation.
In Kurulus Osman Episode 24 English Subtitles, Princess Sofia calls for Alexis who is one of the Margaret Church monks. She has an assignment for him. Sofia knows that Dundar Bey is looking for a doctor to try and heal Aygul. Sofia takes this opportunity to despatch Alexis with a poison drug to use as her weapon of revenge.
Meanwhile in the Kai village, Osman sits with Selcan Hatun and warns her about the power of the two women, Hazal Hatun and Zohre Hatun. Both women will mean trouble for the tribe. Both are jealous of each other and like to display their power. One has a living son to Dundar Bey and one has lost her son. Osman asks Selcan Hatun to keep a close eye on them both.
The hate that Hazal Hatun and Zohre Hatun have for each other is noticeable to all. Hazal has told Zohre that if she puts one foot wrong she will take her revenge.
Salvador brings news of Sofia's movements to Osman but he doesn't know that a poisonous potion will be brought into the nomad by Alexis of the Margaret Church. Salvador also tells Osman that Master Yannis was hung by the Byzantine Emperor and his soldiers are searching for Sofia as well. Osman believes that Sofia has revenge in her sights and he does not believe for one minute that she wants an alliance with Osman. More-so she will want to kill him.
Osman tells Salvador to return to Sofia and tell her that he accepts her invitation of alliance. It is Osman's dream to have the flag of the Kais flying from Kuluchaiser Castle and he knows that Sofia is still his enemy and will have a plan to kill him but at this stage he will go along with her.
In the mongol camp Balgay begins to become suspicious of Kongar. Balgay sets up a trap for him and he is caught. His treatment is savage and includes a heavy drug which is poured down his throat. He is then mentally conditioned to go out and kill Osman.
Alexis the Margaret Church monk arrives in the Kai village. He arrives as a doctor sent to treat Aygul. He is accepted without hesitation. He gives Zohre a potion and tells her that he will heal her daughter if she uses a poison that will kill all at the wedding. The poison is to be fed to the sacrificial goats prior to slaughter. The poison will slowly be absorbed into their meat and once eaten it is deadly. This is the perfect way for Zohre Hatun to have revenge on everybody as her husband will then be left as head of the Kais tribe. Zohre accepts the poison and her last opportunity to secure her husbands title.
In Kurulus Osman Episode 24 English Subtitles, The Kai village is pumping. Wedding games have begun. The first event is the traditional goat carry race. All Osman's alps line up with him in a race of strength and speed.
Such fun and merriment has not been experienced for such a long time within the village. Every member of the camp breaks into laughter and enjoys their full compliment of happiness.
Dundar Bey and Hazal Hatun meet for a quiet rendezvous in the bush away from the noise and rush of the wedding festivities. Hazal Hatun confirms her loyalty and heart still belongs to her husband.
Alexis the monk reports back to Sofia that he has been successful in delivering the poison to Zohre Hatun.
When the goats are chosen for the wedding feast Zohre Hatun quietly poisons their food.
That evening the wedding guests gather in celebration. Osman is dressed in his best black leathers whilst Bala is beautiful attired in her red wedding outfit.
In Kurulus Osman Episode 24 English Subtitles, The wedding guests settle down to the wedding feast. The goats have been slain.
Traditional music is played glorifying Osman Bey and Sheik Edebali gives thanks to God.
To Zohre Hatun's shock her husband and daughter join the wedding party for the feast. They are welcomed and take their seats next to Zohore. The feast begins with the freshly roasted goat distributed to the guests of honour first.
Zohre Hatun makes sure that her daughter and husband do not eat the goat. She attempts to get them to leave the feast and calls them away but not before Hazal Hatun stops everyone from eating the meat and calls Zohre Hatun out as a traitor.
Hazal Hatun gives Zohre the same meat to eat and tells her to prove that it does not contain poison.
In Kurulus Osman Episode 24 English Subtitles, Zohre Hatun knows she is caught in her own trap and draws her dagger in a murderous rage.
Hazal Hatun is just as quick to draw her own dagger and slits Zohre Hatun's throat where she stands. She dies on the spot.Hazal Hatun's murder of Zohre Hatun was not without proof. Her guard had followed Zohre and saw her receive the poison and feed it to the goats. She then reported back to her mistress.
Sofia's attempt on all their lives has failed.
Episode Title: Kurulus Osman Episode 24 English Subtitles
Air Date: 2020-06-03
Year: 2020