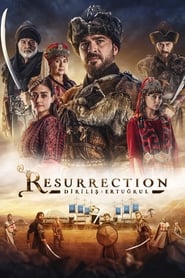 Resurrection Ertugrul Episode 148 English
Resurrection Dirilis Ertugrul Episode 148 English Subtitles on KayiFamilyTV, Watch for free, Resurrection Dirilis ErtugrulSeason 5 Episode 148 Youtube
The Diriliş 'Erturul' series, which shattered the ratings on TRT 1 screens, will once again keep the audience glued to the screen on Wednesday, May 15, 2019, at 20.00 with its brand-new episode that is packed with a variety of exciting and action-packed scenes.
The secret agents working for Hulagu Han, Arkbuka and Albast, were successful in capturing Erturul Bey, but Turgut suffered grievous injuries and Mergen and Dumrul Alp were put to death. Both Gündodu and Bams attempted to rescue Erturul Bey, but they were unable to get to him in time.
Arkbuka was not only searching for Erturul Bey, but also for Gündodu, and he set up another trap in order to capture him. He then lured Gündodu and Bams out to hunt for Erturul Bey by placing a piece of Erturul Bey's clothing in the area where they hoped to catch him in the trap. This caused Gündodu and Bams to search for Erturul Bey.
While Bams and Gündodu were being lured into the ambush set by Arkbuka, Albast was leading Erturul Bey to the hidden cave in order to interview him. But Erturul Bey had freed his hands and prevented Albast's soldiers from doing anything further. Now Albast and Erturul Bey were left alone, and Erturul Bey ended up assassinating Erturul Albast as a consequence of the difficult war.
Erturul Bey, who was aware of Arkbuka's trap, travelled to the cave where the trap had been laid in order to save his brother Gündodu and Bams. Once there, he was able to rescue both of them by eliminating Arkbuka's guards. When Arkbuka realised he was going to lose the war, he quietly departed the country and swore vengeance on those who had wronged him.
What are the next steps for Arkbuka, now that he has fallen into the trap that he made for himself? Will it be possible for Erturul Bey to get ahead of Arkbuka? What is Srma, who is unable to process the fact that her brother Beybolat was murdered, going to do?
In the 148th episode of Diriliş Erturul, you'll get the answers to all of these questions and many more besides!
This next Wednesday, May 15th, "Resurrection Erturul" will be shown on TRT 1!
Resurrection Dirilis Ertugrul Episode 148 English Subtitles Free Watch Free on KayiFamilyTV, Resurrection Dirilis Ertugrul Episode 148 English Subtitles Free.
Episode Title: Resurrection Ertugrul Episode 148
Air Date: 2019-05-08
Year: 2019