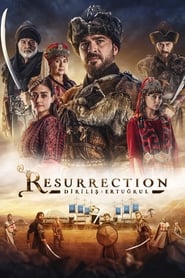 Resurrection Ertugrul Episode 69 English
Resurrection Dirilis Ertugrul Episode 69 English Subtitles on KayiFamilyTV, Watch for free, Resurrection Dirilis ErtugrulSeason 3 Episode 69 Youtube
Undoubtedly, every soul will taste death… But only God determines its time…
Simon, using Turgut's loyalty in line with his plan, found the target of the poisoned letter he sent to Ertuğrul and Ertuğrul got out of control with the effect of poison. This incident, which took place in front of the gentlemen and women of the two tribes, not only surprised everyone, but also worried them. Will the poisoned Ertuğrul harm those around him and cause someone's death? And the real question: Will Ertuğrul die?
Sometimes the loyalty of the good can be the greatest weakness that the bad will use…
In the last episode, the templars realized that Turgut Alp was working for Ertuğrul and they managed to poison Ertuğrul by using Turgut's loyalty to Ertuğrul. Now known as a traitor on both sides, will Turgut be able to get out of this difficult situation?
The Black News is Heard Quickly…
While the news of Ertuğrul's death is heard, new developments are taking place in Kayı Obası, who has suddenly become powerless; Dündar has decided to go against both the Templars and Turgut Alp to avenge Ertuğrul Bey. What results will this dark environment in which white and black are not clear?
Similar State of Different People…
This state of Ertuğrul Bey, who got out of control before his eyes and attacked Ural, was met with great surprise in the Çavdar tent. While Candar Bey was going to open up the issue of marriage with Aslıhan to Ertuğrul, this unexpected development caused the marriage issue to be postponed for a while. On the other hand, the similarity between Toktamış's death and Ertuğrul's poisoning did not escape the attention of Çavdar tent. So, will Ural, who has a finger in both poisoning cases, be able to get out of this situation?
The Short-Run Win of Evil is the Beginning of the Long-Run Winning of Good…
While the successful execution of the plan cheers Simon, the Kayi's vow of revenge has also prompted Simon. From now on, the cards will be played openly and it will be acted with the logic of who has the power… But who will be the winner in this mobilization?
Resurrection Dirilis Ertugrul Episode 69 English Subtitles Free Watch Free on KayiFamilyTV, Resurrection Dirilis Ertugrul Episode 69 English Subtitles Free.
Episode Title: Resurrection Ertugrul Episode 69
Air Date: 2016-12-14
Year: 2016