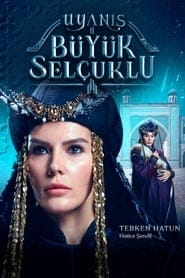 Yanis Buyuk Selcuklu Episode 1 English
Yanis Buyuk Selcuklu Episode 1 English Subtitles on KayiFamilyTV, Watch for free, Yanis Buyuk SelcukluSeason 1 Episode 1 Youtube
After the treacherous assassination of the Seljuk ruler Sultan Alparslan, who opened the gates of Anatolia to the Turks, his son Melikşah ascended the throne. Melikşah, who lost her Hatunu Başulu on the same day, is deeply shaken.
While the Seljuks were in constant conflict with the Byzantines and the Fatimid State outside, the Batinis, led by Hasan Sabbah, were gnawing at the Seljuks from within.
Melikşah's biggest supporters in this way will be qualified statesmen and people with wisdom such as Nizamülmülk.
Sencer, who grew up without a father, goes through Nizamülmülk's training and turns into an idealistic hero and succeeds in becoming Melikşah's bodyguard.
On the other hand, Terken, a noble noble from the Karakhanid dynasty, wants to dominate the state with the power of being the wife of Melikşah. However, in the face of his ambitions, it will be Seferiye, the mother of Melikşah, the Head Lady of the state, Gevher, the Hatun of Tapar, the son of Melikşah, and the noble Turkmen girl Elçin, who will change the balance with her arrival in the palace.
In the cast of the series, which counts the days to meet the audience; Ekin Koç, Buğra Gülsoy, Hatice Şendil, Gürkan Uygun, Leyla Lydia Tuğutlu, Sevda Erginci, Mehmet Özgür, Cemal Toktaş, Osman Sonant, Leyla Feray, İlker Kızmaz, Ali Gözüşirin, Çiğdem Selışık Onat, Murat Garipağaoğlu, Nik Xhelilaj and Erdem Akakçe. .
Yanis Buyuk Selcuklu Episode 1 English Subtitles Watch Free on KayiFamilyTV, Yanis Buyuk Selcuklu Episode 1 English Subtitles.
Episode Title: Yanis Buyuk Selcuklu Episode 1 English Subtitles
Air Date: 2020-09-28
Year: 2020