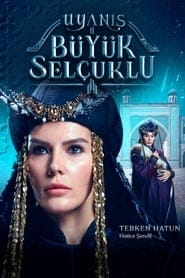 Yanis Buyuk Selcuklu Episode 10 English
Yanis Buyuk Selcuklu Episode 10 English Subtitles on KayiFamilyTV, Watch for free, Yanis Buyuk SelcukluSeason 1 Episode 10 Youtube
Sencer, who learned that Yorgos had smuggled the Sacred Relics to Kuvel Castle, infiltrated Kuvel to get involved in Ilteber's caravan and save the relics. Andreas, who learned that Sencer had infiltrated them with the denunciation of the Batinis, managed to corner Sencer in his castle with his men by holding on quickly. How will Sencer get out of Kuvel Castle? How will he save the Sacred Relics, which cause Yorgos and the Batinis to quarrel with each other, from their hands? Will he be able to take his revenge on Yorgos, who brought him to the brink of death and caused Turna to be mortally wounded? What awaits Sencer, who will succeed in bringing the Sacred Relics to the palace after a difficult process?
On the other hand, Terken, who had suspicions that Melikşah had another child from Başulu as a result of Seferiye's delirium, reached Başulu's grave and the house where he had been hiding during his exile days as a result of his research, and the cradle he saw in the house inflamed Terken's suspicions. Will he be able to learn the big secret he chased while leaving? Will Nizamülmülk be able to keep the great secret that the state has hidden for the sake of the state from Terken?
On the other hand, Elçin had succeeded in catching Kasım's spy, who was trying to fuel the strife between the Great Seljuks and the Anatolian tribes. Elçin will bring the spy to the palace. What will happen between Elçin and Terken, who came to the palace?
In addition to all these, Nizamülmülk, who will have the blacksmiths who have carved the arrow sign that burned Khayyam's house, have narrowed the grip to catch Hasan Sabbah. Will Nizamülmülk be able to decipher Hasan Sabbah?
Yanis Buyuk Selcuklu Episode 10 English Subtitles Watch Free on KayiFamilyTV, Yanis Buyuk Selcuklu Episode 10 English Subtitles.
Episode Title: Yanis Buyuk Selcuklu Episode 10 English Subtitles
Air Date: 2020-11-30
Year: 2020