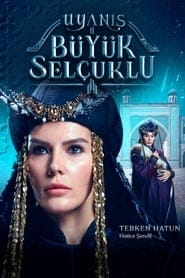 Yanis Buyuk Selcuklu Episode 12 English
Yanis Buyuk Selcuklu Episode 12 English Subtitles on KayiFamilyTV, Watch for free, Yanis Buyuk SelcukluSeason 1 Episode 12 Youtube
What will be the fate of Sencer and Arslantaş? Will Arslantaş, whose longing for his mother and brother is his greatest weakness, be able to reunite with his mother? What kind of a game will the Batinis, who will take advantage of his weakness, pull Arslantaş into?
Terken, who receives the news that Arslantaş shot Sencer, takes action to discredit his special bravery in order to break the power of Nizamülmülk. How will Nizamülmülk defend his special heroes, whom he sees as his sons?
On the other hand, Terken, who went into a crisis of jealousy with the rapprochement of Elçin Melikşah, slapped Elçin. Elçin, who wanted to avenge the slap she received, understood that Seferiye's illness was a game planned by Terken. What will he do to reveal this game? Will Terken be able to prevent the emergence of the game he has set up and Elçin's revenge on him?
While all this is going on, what kind of surprise awaits Elçin, who thinks she is getting closer to Melikşah? On the other hand, what will be the evil plan of Hasan Sabbah that will affect the entire Seljuk State? Will Sencer be able to prevent Hasan Sabbah?
Yanis Buyuk Selcuklu Episode 12 English Subtitles Watch Free on KayiFamilyTV, Yanis Buyuk Selcuklu Episode 12 English Subtitles.
Episode Title: Yanis Buyuk Selcuklu Episode 12 English Subtitles
Air Date: 2020-12-14
Year: 2020