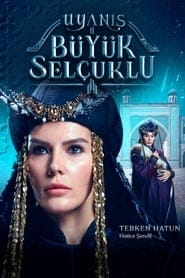 Yanis Buyuk Selcuklu Episode 14 English
Yanis Buyuk Selcuklu Episode 14 English Subtitles on KayiFamilyTV, Watch for free, Yanis Buyuk SelcukluSeason 1 Episode 14 Youtube
Melikşah stopped Sencer, who was about to catch Hasan Sabbah and reveal his true identity. Afterwards, Melikşah, who does not allow Sencer to go after Seyduna, will apply to Sencer, who kidnapped Arslantaş, disobeyed the state and battered Tacülmülk? Will Arslantaş, who is wanted by injuring Nizamülmülk and Sencer, be found?
Will Nizamülmülk, who was poisoned as a result of Terken's successful arrangement, die? What will be the fate of Turna, who made Nizamülmülk drink the poisonous liquid?
Will the batinis, who have been after Arslantaş's mother Leyla, who managed to escape from the dungeon where she lived in captivity for years, will be able to find Leyla? What will be the fate of Leyla? Will Arslantaş be able to save his mother Leyla from the hands of the batinis?
As a result of the explosion of the steel warehouse in Şelemzar, the difficult days of İlteber, who drew the anger of Melikşah, will continue. Having cornered himself because of his debts, Faysal's request for the darülhicre had imprisoned İlteber in an inextricable grip. Will Ilteber, who has no other choice to get out of the situation he is in, will give the darülhicre to Faysal?
When it was understood that he was involved in the Shelemzar explosions, Andreas, who drew the reaction of Melikşah, understood that the Byzantine emperor had sacrificed himself and would take action to take Melikşah's head. What will he do to get rid of this cruel situation he has fallen into? Or has Andreas come to the end of the road?
Yanis Buyuk Selcuklu Episode 14 English Subtitles Watch Free on KayiFamilyTV, Yanis Buyuk Selcuklu Episode 14 English Subtitles.
Episode Title: Yanis Buyuk Selcuklu Episode 14 English Subtitles
Air Date: 2020-12-28
Year: 2020