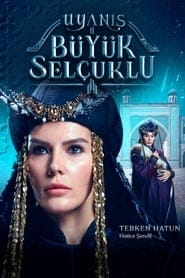 Yanis Buyuk Selcuklu Episode 15 English
Yanis Buyuk Selcuklu Episode 15 English Subtitles on KayiFamilyTV, Watch for free, Yanis Buyuk SelcukluSeason 1 Episode 15 Youtube
Sencer, who was very close to stopping Faisal's caravan and catching Rüstem, was blocked by Tapar and was prevented from catching Rüstem at the last moment. When Tapar and Sencer came to the palace, Arslantaş had succeeded in bringing Rüstem to the palace. How did Arslantaş catch Rüstem? Has he been able to get hold of the Book of Secrets that Rustem managed to extract from Shelemzar? Will it be revealed that Faisal, who kidnapped Rüstem with the golden caravan, is Batini?
On the other hand, Elçin, who was sure that Terken poisoned Nizamülmülk and Seferiye, found the place of the sorcerer who set a trap for Terken over Firdevs and made the poison. So what; where he had hoped to find the mage were two corpses; These were the corpses of the sorceress and Esma, who mixed the poison with Nizamülmülk's medicine. What will Elçin do when she realizes that she was caught in a trap by Terken after it's too late? What kind of surprise awaits Terken, who is about to succeed in expelling Elçin from the palace by accusing Elçin of murder and blackmailing her?
Melikşah, who defeated Andreas in the war and punished him with death, will march to Kuvel Castle with his army. Will he add Kuvel Castle, which is a balancing element between him and Byzantium, to his lands? How will he come to an agreement with Byzantium? What will be the surprise waiting for Melikşah on the way back from Kuvel?
In addition to all this, what will be the new plan of Sabbah, who allies with Markus after realizing that Andreas has been sacrificed? What will be the first action of Markus, who came to the Seljuk lands to cause chaos and prepare a suitable environment for the Crusader armies?
Yanis Buyuk Selcuklu Episode 15 English Subtitles Watch Free on KayiFamilyTV, Yanis Buyuk Selcuklu Episode 15 English Subtitles.
Episode Title: Yanis Buyuk Selcuklu Episode 15 English Subtitles
Air Date: 2021-01-04
Year: 2021