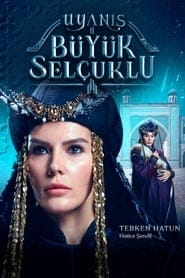 Yanis Buyuk Selcuklu Episode 16 English
Yanis Buyuk Selcuklu Episode 16 English Subtitles on KayiFamilyTV, Watch for free, Yanis Buyuk SelcukluSeason 1 Episode 16 Youtube
Hasan Sabbah aroused the suspicions of Nizamülmülk and Sencer as a result of the actions he was obliged to do. Finally; Knowing that the Book of Secrets, which contains many secrets of the Batini organization he was at the head of, was about to fall into the hands of the Seljuks, Hasan Sabbah took action and succeeded in finding the book before Sencer. So what; While he was saving the book, he was caught by Sencer. Will Sencer be able to reveal Hasan Sabbah's secret? Will he be able to get rid of the strong accusations that will be leveled against Hasan Sabbah?
On the other hand, Elçin had told Melikşah all the crimes that Terken had committed, at the cost of her life. How will Terken, whose crimes are about to become obvious, get out of this situation he has fallen into? Who will be the new chief lady who will replace Terken, who will be dismissed from the office of chief hatun as a result of the unforgivable crimes her name is involved in? In what way will the balances in the palace change with the new chief lady to come?
Faisal, who had succeeded in capturing the Şelemzar mines, had drawn the attention of the Seljuk State. Finally, the fact that the gold belonging to Rüstem's mines came out of the carts carrying cargo provoked Tapar against him and was punished by Tapar. How will Faisal follow in order to get rid of the suspicions and pressure applied to him?
Yanis Buyuk Selcuklu Episode 16 English Subtitles Watch Free on KayiFamilyTV, Yanis Buyuk Selcuklu Episode 16 English Subtitles.
Episode Title: Yanis Buyuk Selcuklu Episode 16 English Subtitles
Air Date: 2021-01-11
Year: 2021