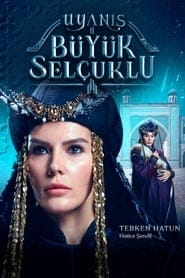 Yanis Buyuk Selcuklu Episode 19 English
Yanis Buyuk Selcuklu Episode 19 English Subtitles on KayiFamilyTV, Watch for free, Yanis Buyuk SelcukluSeason 1 Episode 19 Youtube
Hasan Sabbah had lured him into an ambush to take revenge on Sencer, whom he held responsible for the death of Rüstem, Behram and many of his bodyguards. Melikşah, who arrived at the last moment to save Sencer from this ambush, was poisoned as a result of Sabbah's arrangement and collapsed to the ground with the effect of this poison. Sencer had shielded himself so that Melikşah would not suffer. Will Sencer be able to protect Melikşah from Faisal and Sabbah? Who will save them from this predicament?
On the other hand, Terken, who managed to gain a trump card in her race with Zübeyde by getting pregnant, warned Tacülmülk to find new alliances against Nizamülmülk and Zübeyde in order to become even stronger. As a result, which dangerous enemy will Crown Property be on the verge of collaborating with? What action will he take to get in the eye that will put him in trouble?
On the other hand, can Hasan Sabbah, who managed to smuggle many secret documents of the Seljuk during his years in the palace, be able to deliver these secret documents to the Crusader counts, who took action to destroy the Seljuk, and to Markus, who terrorized the Seljuk lands? Will Sencer be able to seize these documents and prevent the destruction activities that Sabbah and the Crusader counts will jointly undertake?
What kind of developments will occur in Isfahan in the absence of Melikşah, who is struggling with death due to the effect of the poison he is exposed to? How will the unrest that will begin among the people and the army be prevented?
Yanis Buyuk Selcuklu Episode 19 English Subtitles Watch Free on KayiFamilyTV, Yanis Buyuk Selcuklu Episode 19 English Subtitles.
Episode Title: Yanis Buyuk Selcuklu Episode 19 English Subtitles
Air Date: 2021-02-01
Year: 2021