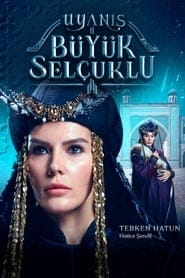 Yanis Buyuk Selcuklu Episode 20 English
Yanis Buyuk Selcuklu Episode 20 English Subtitles on KayiFamilyTV, Watch for free, Yanis Buyuk SelcukluSeason 1 Episode 20 Youtube
Tacülmülk had withdrawn most of the soldiers that Sencer had ambushed from Kara Tepe as a result of the wrong intelligence that Hasan Sabbah had in an arrangement. This led to the killing of a small number of Seljuk soldiers, who were ambushed in this way, and Hasan Sabbah's capture of documents containing important information of the state. What will be the punishment of Tacülmülk, who will fall out of favor with Melikşah with this action?
On the other hand, Sencer had learned that Sabbah would deliver the secret documents of the Seljuks to the crusader counts. Sencer, who learned the place where this delivery will take place, made a raid on the delivery place with Nizamülmülk and his valiants. Will the Sencers be able to get the documents containing many secrets of the Seljuk from Sabbah, Markus and the crusader counts? Will Sencer be able to catch Markus and Sabbah and take his revenge?
In addition to all these, Terken, who did not listen to Zübeyde's order and came to Kınık Obası, next to Melikşah, met Başulu in Melikşah's tent. Will he see the face of Başulu, whose back is turned to him?
On the other hand, Melikşah, who will be freed from the clutches of death and regain his health, will immediately want to equip his army with new weapons for the conquest of Kuvel Castle. What kind of action will the esoteric and the crusader alliance attempt to disrupt the preparations started in this direction? Knowing that Melikşah will come to Kuvel for conquest, what will Izakyos do to gain strength in the region?
Yanis Buyuk Selcuklu Episode 20 English Subtitles Watch Free on KayiFamilyTV, Yanis Buyuk Selcuklu Episode 20 English Subtitles.
Episode Title: Yanis Buyuk Selcuklu Episode 20 English Subtitles
Air Date: 2021-02-08
Year: 2021