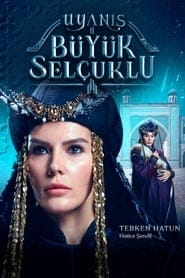 Yanis Buyuk Selcuklu Episode 21 English
Yanis Buyuk Selcuklu Episode 21 English Subtitles on KayiFamilyTV, Watch for free, Yanis Buyuk SelcukluSeason 1 Episode 21 Youtube
Melikşah's brother, Melik Tekiş, had come to Isfahan, the throne city. He went to Melikşah's presence and asked Melikşah who his secret son, whom he hid from everyone, was. What will be the new move of Tekiş, which will cause a new fire of sedition in the palace? As a result of this dangerous claim made by Melik Tekiş, the seeds of doubt were planted in Tapar's mind. What will Tapar do, whose main longing is rekindled?
Melikşah took action to strengthen his army for the conquest of Kuvel Castle, and decided to bring a steel caravan from Berkyaruk with the suggestion of Zübeyde. So what; The steel caravan brought by Zübeyde was raided by the order of Terken, with a dangerous game played by Tacülmülk with Sabbah; Steels and catapult springs, which were extremely important for the Seljuks, also passed into the hands of the Batini and Crusader alliances. Realizing that he has put the Seljuk in a difficult situation, Terken will order Tacülmülk to bring back the catapult bows. How will this affect the dangerous partnership of Tacülmülk and Sabbah? Will the Crown Property be able to bring back the catapult bows?
What will Zübeyde do, who will suspect Tacülmülk when the steel caravan she brought is attacked?
With the poisoning of Efruz, who was an esoteric spy, İlteber died on the day that Turna would be wanted. What developments will Ilteber's death bring? Will the balances in Shelemzar be turned upside down? How will Turna get rid of the creditors who will take advantage of Ilteber's death and swarm her? What activities will Faisal undertake to discredit Turna? Will Sencer be able to ensure the security of Şelemzar, who will be dragged into confusion after İlteber's death?
Influenced by Melikşah, who saved him from the Crusaders who tried to kill him, Count Albert will realize that the Christian world has turned his back on him. Will Count Albert, who will be greatly disappointed, help Melikşah?
What kind of destructive activities will Izakios, supported by Constantinople with an army of thousands, undertake in the Seljuk lands? What will be the most daring move of Markus, who will receive military support from Izakios to confuse the Seljuks?
Yanis Buyuk Selcuklu Episode 21 English Subtitles Watch Free on KayiFamilyTV, Yanis Buyuk Selcuklu Episode 21 English Subtitles.
Episode Title: Yanis Buyuk Selcuklu Episode 21 English Subtitles
Air Date: 2021-02-15
Year: 2021