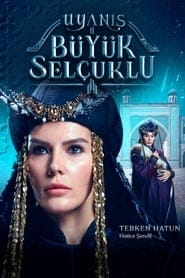 Yanis Buyuk Selcuklu Episode 24 English
Yanis Buyuk Selcuklu Episode 24 English Subtitles on KayiFamilyTV, Watch for free, Yanis Buyuk SelcukluSeason 1 Episode 24 Youtube
Knowing that Sencer has a big secret, Turna succumbed to her curiosity and decided to pursue this secret. Turna, who witnessed the secret meeting of Başulu Hatun and Tapar, faced a new danger when she realized that Sencer's secret also concerns Tapar. On the other hand, Turna was not the only one watching Başulu Hatun and Tapar. In the light of the information he received from Tacülmülk, Sabbah followed Tapar and witnessed with his own eyes that Başulu Hatun did not die.
Growing up without a mother for years, Tapar could not hide her anger after learning that Başulu Hatun was her mother. Facing Tapar's harsh reaction, Başulu Hatun experienced the most painful moments of her life. Zübeyde, who caught Gevher and Terken while they were opening Başulu's grave, was confident about complaining about the duo to Melikşah, but she gave up on her decision as a result of the news she received from Nizamülmülk. The fact that Zübeyde did nothing made Gevher and Terken suspicious. It was a matter of curiosity whether Tapar, who learned the big secret, would tell the truth to Melikşah.
As Sencer was interested in the Tapar issue and was late for a secret meeting with the Turkmen chiefs, the Byzantines ambushed the Turkmen chiefs. While the Turkmen lords blamed Sencer for this incident, Sencer talked about the impossibility of finding the secret meeting places of the Byzantines and claimed that there was a traitor among them and this traitor was none other than Tekiş.
Sabbah prepared an antidote to bring his ally Izakios back to life. While the improvement of the situation of Izakios was a hope for the Byzantines, the emergence of Mitras, who wanted to avenge his brother Markus, brought the end of Izakios. The soldiers' claim that the antidote that Sabbah gave did not work did not convince Sabbah about the suspicious death of Izakios.
While the next plan of Mitras, who took his revenge, was to take Livya back to his side, Sencer made a new plan over Livya and set his mind to defeat the Byzantines. Guessing that Sencer was trying to trap the Byzantines through Livya, Tomas, who came to the meeting place prepared, offered Sencer to give Livya to him in return for the information he wanted. Whether Sencer would prefer Livya or the future of his state remained a mystery.
Melikşah, who was disturbed by the Turkmen lords' refusal of the edict and realizing that Tekiş was provoking them, showed his anger towards Tekiş. The fact that the arrows were on target while Melikşah was drawing his sword against Tekiş gave the signals that the war between the two brothers would escalate.
Yanis Buyuk Selcuklu Episode 24 English Subtitles Watch Free on KayiFamilyTV, Yanis Buyuk Selcuklu Episode 24 English Subtitles.
Episode Title: Yanis Buyuk Selcuklu Episode 24 English Subtitles
Air Date: 2021-03-08
Year: 2021