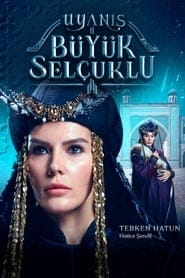 Yanis Buyuk Selcuklu Episode 25 English
Yanis Buyuk Selcuklu Episode 25 English Subtitles on KayiFamilyTV, Watch for free, Yanis Buyuk SelcukluSeason 1 Episode 25 Youtube
Turna following Başulu to meet with Tapar; He had seen the two of them meet secretly. At this very moment, a dagger was stuck in Turna's throat? Who held a dagger to Crane's throat? Will the crane die?
Sabbah, who took action to reveal that Melikşah had a son from Başulu, who was exiled years ago, witnessed Tapar and Başulu meeting secretly. Sabbah, who is Basulu; Will he be able to find out that she is Tapar's mother? Will he be able to have the secret that could drag the Seljuks into a great mess?
On the other hand, Tekiş, who organized the massacre of the Turkmen Beys, was calling the new Turkmen Beys, the heirs of these beys, to raise a flag against Melikşah as a second move. Melikşah raided this meeting. Will Melikşah, whose hand goes to his sword, punish Tekiş? Or will the archers hidden by Tekiş shoot Melikşah?
On the other hand, Sencer understood that Tomas, whom he had trapped, also set a trap for himself. Tomas, who offers to confess Tekiş's betrayal; In return, he asked for Livya from Sencer. Will Sencer deliver a woman who took refuge in him to his enemies? Will he be able to detain Tomas in order to prove the crime of Tekiş, the murderer of the Turkmen Beys?
In addition to all these, Faisal will organize a game with the order of Sabbah, who wants to dominate Shelemzar, and will appear before Nizamülmülk and ask for the Emirate of Shelemzar. What will be Nizamülmülk's response to Faisal?
What will be the first action of Bedrülcemali, who came to the Seljuk lands to weaken and even destroy the Seljuks by forming an alliance with Sabbah? What action will he take to break the influence of Melikşah in the Islamic World?
Yanis Buyuk Selcuklu Episode 25 English Subtitles Watch Free on KayiFamilyTV, Yanis Buyuk Selcuklu Episode 25 English Subtitles.
Episode Title: Yanis Buyuk Selcuklu Episode 25 English Subtitles
Air Date: 2021-03-15
Year: 2021