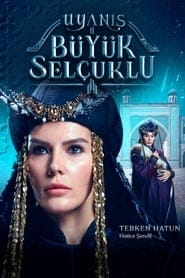 Yanis Buyuk Selcuklu Episode 26 English
Yanis Buyuk Selcuklu Episode 26 English Subtitles on KayiFamilyTV, Watch for free, Yanis Buyuk SelcukluSeason 1 Episode 26 Youtube
What kind of punishment will Melikşah give to Tekiş, who is sure of Tekiş's betrayal as a result of Sencer's arrangement? Will Tekiş, who has entered the struggle to seize the throne, be able to escape from the hands of Melikşah?
On the other hand, Sabbah learned that the woman who went to Kınık Obası and met with Tapar secretly was Başulu. Therefore, he succeeded in becoming a foundation for the secret that could drag the Seljuk State into a great mess. How will Sabbah use this secret?
Will Livya, who will recognize Efruz in Kınık Obası, betray Efruz and Sabbah? Will Efruz be able to escape from Kınık Obası with Sabbah?
Besides all these; While leaving, she learned that the baby in her womb was a boy, and without wasting time, she gave the good news to Melikşah. Will she be able to change the balance in the palace by using the baby boy she will give birth to when she leaves?
On the other hand, Fatimid Vizier Bedrülcemali, who was aware of the Seljuk's calendar studies, requested this calendar from Hasan Sabbah in order to darken the Seljuk's shining star in the Islamic world. Thereupon, Sabbah's secret companion Fida in the observatory took action, ignoring Ömer Hayyam's self-confidence; Omar seriously injured Khayyam and managed to miss the calendar.
How will Nizamülmülk, who will work to reveal the stolen calendar issue, decipher Fida's betrayal? Will Nizamülmülk be able to reach Becrülcemali and Sabbah through this calendar?
Yanis Buyuk Selcuklu Episode 26 English Subtitles Watch Free on KayiFamilyTV, Yanis Buyuk Selcuklu Episode 26 English Subtitles.
Episode Title: Yanis Buyuk Selcuklu Episode 26 English Subtitles
Air Date: 2021-03-29
Year: 2021