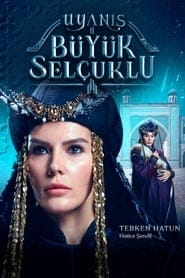 Yanis Buyuk Selcuklu Episode 27 English
Yanis Buyuk Selcuklu Episode 27 English Subtitles on KayiFamilyTV, Watch for free, Yanis Buyuk SelcukluSeason 1 Episode 27 Youtube
Melikşah, who won the throne struggle with Tekiş, made Tekiş kneel and put a bow beam around his neck. Will Tekiş's tragic end be death, or will Melikşah's mercy be enough for Tekiş to survive?
Noticing Efruz in Kınık Obası, Livya took action to deliver him to the Kınık Alps, but was seriously injured by Hasan Sabbah. Will Livya wake up from her death slumber and say that Efruz and Faisal are a Batini? On this occasion, will Turna learn that her father Ilteber was killed by the Batinis?
Hasan Sabbah, who learned the secret, managed to kidnap Başulu. Why did Sabbah kidnap Başulu? What purpose is he planning to achieve by capturing her? What important thing will he want from Sencer in return for Başulu to give it back?
Tapar had finally achieved his goal and learned that he would become an emir. What kind of surprise awaits Tapar, who was appointed the Emir of Shelemzar by Sultan Melikşah?
Yanis Buyuk Selcuklu Episode 27 English Subtitles Watch Free on KayiFamilyTV, Yanis Buyuk Selcuklu Episode 27 English Subtitles.
Episode Title: Yanis Buyuk Selcuklu Episode 27 English Subtitles
Air Date: 2021-04-05
Year: 2021