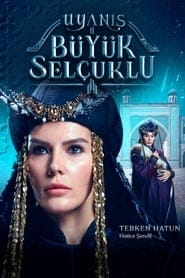 Yanis Buyuk Selcuklu Episode 28 English
Yanis Buyuk Selcuklu Episode 28 English Subtitles on KayiFamilyTV, Watch for free, Yanis Buyuk SelcukluSeason 1 Episode 28 Youtube
Hasan Sabbah and Batinis trapped Basulu and kidnapped him, on the other hand, they managed to capture Shelemzar by setting up a big plot. On the other hand, Sencer learned that Başulu was kidnapped and that the person who injured Livya was Efruz and that Efruz was a senior Batini working for Sabbah. Sencer, who realized that Basulu was kidnapped by the Batinis, set out for the Şelemzar Hospital to catch Efruz.
When they learned that Basulu was in Sabbah's hands, they realized that they could not take Selemzar, and they had to agree to bring the Hilati of Nizar, which Sabbah wanted to free Basulu, and they went before Melikşah and demanded the Hilati of Nizar with an excuse. .
After a short while, Melikşah learned about this operation carried out secretly by the Sencers and gave the Hilati of Nizar; He had set a trap for Sabbah secretly from the Sencers and thus started the revelation of the secret.
As a result of the trap set by Melikşah, Sabbah was from both Hilat and Başulu. Because Melikşah had managed to kidnap Başulu from Şelemzar. Sencer, Nizamülmülk, Tapar and Melikşah had returned to the palace.
Başulu came before Melikşah. When Başulu was compelled to lower the veil from his face, Başulu and Melikşah saw each other's faces for the first time in many years, and the secret was opened! What kind of judgment will Nizamülmülk, who arranged this secret years ago and enabled Melikşah to ascend to the throne, face because he lied to the sultan?
Will Melikşah forgive Sencer, who rises to his side and still hides from him, and Başulu, who tolerates Melikşah's death and continues to hide?
On the other hand, the opening of the secret will spread very quickly to the entire Seljuk dynasty. How will the members of the Seljuk Dynasty respond to the fact that Başulu lives and Sencer emerges as a secret heir?
Will Terken's hostile attitude towards Başulu, who learned the secret from Melikşah before and wanted to prevent the rescue of Başulu so that the secret would not be opened, and was unsuccessful, turn into action?
Yanis Buyuk Selcuklu Episode 28 English Subtitles Watch Free on KayiFamilyTV, Yanis Buyuk Selcuklu Episode 28 English Subtitles.
Episode Title: Yanis Buyuk Selcuklu Episode 28 English Subtitles
Air Date: 2021-04-12
Year: 2021