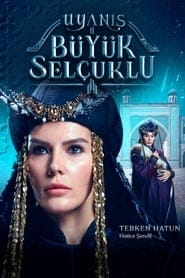 Yanis Buyuk Selcuklu Episode 29 English
Yanis Buyuk Selcuklu Episode 29 English Subtitles on KayiFamilyTV, Watch for free, Yanis Buyuk SelcukluSeason 1 Episode 29 Youtube
Sencer and Tapar were in disguise and managed to enter Shelemzar. He managed to continue the operation within the walls and open the door of Selemzar to the army of Melikşah. However, neither Melikşah nor his army had come before Selemzar in sight! Sencer, Tapar and Alps realized at that moment that they were being dragged into a deadly trap and they were surrounded by Batini's bodyguards. How will Sencer, Tapar and Alps get out of this deadly dead end?
The secret has been opened; This secret became clear to the Seljuk dynasty! Thereupon, Turanşah came to Isfahan to seek revenge. Because he attributed the death of his father Kavurd to this secret and thought that Nizamülmülk was the main perpetrator in his father's death. That's why Turanşah stopped Melikşah, who was moving to Şelemzar so that Sencer and Tapar's operation could be successful! Turanşah brought Nizamülmülk before Melikşah and threatened to kill Nizamülmülk. Will Turanşah be able to kill Nizamülmülk? Will Turanşah, who openly challenge Melikşah, be able to escape from Melikşah's wrath?
On the other hand, Turanşah will make an alliance with Tekiş in order to deal with Melikşah. What will the alliance of Turanşah and Tekiş lead to?
Despite all this bad course, will Melikşah be able to take Selemzar from Hasan Sabbah?
Will Terken, who thinks that he has been wronged when Zübeyde is not removed from the office of chief lady, and does not hesitate to express this openly to Melikşah, will he play a game against Zübeyde? How will he think that the presence of Başulu and Sencer in the dynasty poses a danger to him, and how will he act?
Yanis Buyuk Selcuklu Episode 29 English Subtitles Watch Free on KayiFamilyTV, Yanis Buyuk Selcuklu Episode 29 English Subtitles.
Episode Title: Yanis Buyuk Selcuklu Episode 29 English Subtitles
Air Date: 2021-04-19
Year: 2021