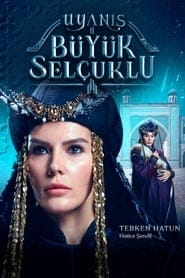 Yanis Buyuk Selcuklu Episode 3 English
Yanis Buyuk Selcuklu Episode 3 English Subtitles on KayiFamilyTV, Watch for free, Yanis Buyuk SelcukluSeason 1 Episode 3 Youtube
Nizamülmülk, who could not resist the order of Sultan Melikşah, brought together Sultan Melikşah and his son Sencer in a secret place despite all the dangers waiting for the state. Will Melikşah ignore Nizamülmülk's warnings and open the last door standing between them to reunite with the son he wants to see years later?
What will be the operation of Sencer, who learns that the Batinis have a hand in every struggle against the Great Seljuk State? Will Sencer be able to decipher the plans of the Batinis that could lead to the destruction of the Seljuks? Will Sencer, who is longing for his father, open his heart to Turna Hatun?
What kind of path will Nizamülmülk follow, who knows that the struggle against the batinis will not be only with the sword? Which Islamic scholar will knock on his door on this path?
What kind of path will Elçin follow to save her brother Kılıçarslan, who attracts attention with her arrival at the palace and draws the anger of Terken by approaching Melikşah step by step? While Elçin's being hosted in the palace and her closeness with Melikşah are making Terken nervous, her move will be awaited with great interest.
Will Yorgos find Sencer and avenge his brother, having learned that Sencer, who he was after for his brother's revenge, is from Kınık Obası? What will be the new plans of Melikşah about Kuvel Castle, who had to deal with the problems that broke out in Anatolia while he started the preparations for the conquest of Kuvel Castle, which he targeted?
Yanis Buyuk Selcuklu Episode 3 English Subtitles Watch Free on KayiFamilyTV, Yanis Buyuk Selcuklu Episode 3 English Subtitles.
Episode Title: Yanis Buyuk Selcuklu Episode 3 English Subtitles
Air Date: 2020-10-12
Year: 2020