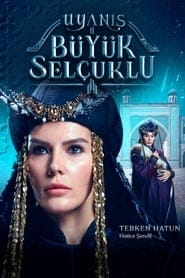 Yanis Buyuk Selcuklu Episode 33 English
Yanis Buyuk Selcuklu Episode 33 English Subtitles on KayiFamilyTV, Watch for free, Yanis Buyuk SelcukluSeason 1 Episode 33 Youtube
Zübeyde's pursuits yielded results and Nizamülmülk had trapped Tacülmülk, who came from meeting with Sabbah. Will Crown Property's betrayal be exposed? Or will Tacülmülk succeed in getting rid of Nizamülmülk?
Will Melikşah, who foresees Mitras' ambush and takes precautions, will be able to defeat Mitras, who set a trap for him, and succeed in catching him? Also, will he be able to save Ali, who was captured by Mitras?
On the other hand, Kipchak Bey Baturalp, Basulu's brother, who learned the situation of Basulu when Hasan Sabbah sent him a message, will set up his tent in a place close to Kınık Obası. What will the arrival of Baturalp, who blames Sultan Melikşah for the troubles Başulu has been through for years, cause?
On the other hand, Baturalp, who thinks that his nephews Tapar and Sencer are not taken into account in the matter of heirship because they are Basulu's children, how will he react to the decision of Melikşah to choose Berkyaruk as heir?
Will Baturalp be able to appoint Sencer or Tapar as heir? Will he take Başulu to the Land of Kipchak?
Yanis Buyuk Selcuklu Episode 33 English Subtitles Watch Free on KayiFamilyTV, Yanis Buyuk Selcuklu Episode 33 English Subtitles.
Episode Title: Yanis Buyuk Selcuklu Episode 33 English Subtitles
Air Date: 2021-05-17
Year: 2021