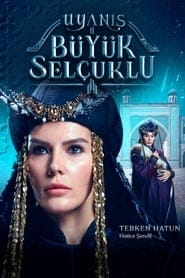 Yanis Buyuk Selcuklu Episode 5 English
Yanis Buyuk Selcuklu Episode 5 English Subtitles on KayiFamilyTV, Watch for free, Yanis Buyuk SelcukluSeason 1 Episode 5 Youtube
After the arrangement of Nizamülmülk, the Batinis were drawn into the trap set for them, Sencer could not succeed no matter what he did to avoid going there, he came face to face with Tapar and Tapar's sword rested on Sencer's neck, whose face was exposed in the fight. Who will make the move that stops Tapar? Will Sencer be able to continue on his way at the most critical threshold of his struggle with the Batinis?
As a result of the intelligence he received from the Batinis, Andreas put the special unit hidden around Kuvel to the sword in order to take revenge on Melikşah who killed his soldiers. One person from the raided special force survived. He was also the sensitive soldier of Melikşah, Yalman. Yalman had managed to reach Isfahan after a grueling journey. Will Yalman be able to expose Hasan Sabbah's betrayal? Will Hasan Sabbah be able to prevent Yalman from revealing himself? How will Melikşah take the revenge of the special unit?
Ghazali, who defeated the Batini dais with his deep knowledge in Isfahan Square, attracted the attention of the people and even Ibn Attaş. What will be Attaş's attitude towards this young scholar who openly raised a flag against his causes? What strategy will Ibn Attaş follow to eliminate Ghazali? Will Nizamülmülk be able to protect Ghazali from the Batinis? What will be the fate of Ghazali?
On the other hand, Terken's birth had started early, who had to deal with Elçin's delusions after her hand accident. What awaits Terken Hatun and Melikşah after a long and painful birth?
Yanis Buyuk Selcuklu Episode 5 English Subtitles Watch Free on KayiFamilyTV, Yanis Buyuk Selcuklu Episode 5 English Subtitles.
Episode Title: Yanis Buyuk Selcuklu Episode 5 English Subtitles
Air Date: 2020-10-26
Year: 2020