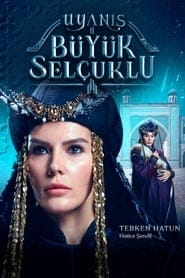 Yanis Buyuk Selcuklu Episode 6 English
Yanis Buyuk Selcuklu Episode 6 English Subtitles on KayiFamilyTV, Watch for free, Yanis Buyuk SelcukluSeason 1 Episode 6 Youtube
Sencer, who came to the brink of ending the efforts of the Batinis to overthrow the state, faced a difficult test at this threshold. He was charged with killing Ghazali, who refuted the claims of the Batinis in the eyes of the people. Sencer, who was locked in a cell before this mission, tried to reach Turna by using his only chance to connect with the outside.
Will Turna be able to notice the compass Sencer sent in a medicine bottle? Will the note in the bottle reach Nizamülmülk?
Sencer, who had to fulfill the assassination order given to him, aimed his crossbow in the heart of Gazali, who was leaving the madrasah with Nizamülmülk, and pulled the trigger. Will Ghazali, who is stabbed in the heart with an arrow, die?
Will Melikşah accept Ebulkasim's request to marry Elçin, who has an irreconcilable enmity, in order to ensure unity in Anatolia?
On the other hand, Elçin, who wants to save her brother Kılıçarslan, who is a prisoner in the hands of Melikşah, will follow a path to reach her goal?
Sencer shot Ghazali in the heart, thereby removing the suspicion of espionage. In this way, will Sencer, who will meet with Başdai İbn-i Attaş, reveal his identity and decipher the dirty plans of the Batinis, and will he be able to keep the promise he made to Melikşah by returning the holy relics that he helped them to seize?
Yanis Buyuk Selcuklu Episode 6 English Subtitles Watch Free on KayiFamilyTV, Yanis Buyuk Selcuklu Episode 6 English Subtitles.
Episode Title: Yanis Buyuk Selcuklu Episode 6 English Subtitles
Air Date: 2020-11-02
Year: 2020