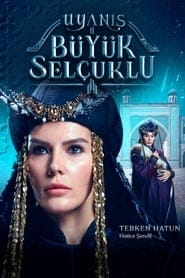 Yanis Buyuk Selcuklu Episode 7 English
Yanis Buyuk Selcuklu Episode 7 English Subtitles on KayiFamilyTV, Watch for free, Yanis Buyuk SelcukluSeason 1 Episode 7 Youtube
Sencer, who revealed the dirty face of the Batinis, seized the holy relics of the Batinis and succeeded in capturing Bahram, upon his promise to Melikşah. But an unexpected event took place and he fell into Yorgos' trap. To avenge his brother's death, Yorgos injured Sencer severely and threw him off the cliff they were in. Will Sencer, who is struggling with death, sought from all directions by the Seljuk soldiers and the alps of Kınık Obası, will be found?
On the other hand, Elçin, who took action to save her brother, had been tricked by Terken. She was disappointed when she saw that Melikşah was waiting for her where she hoped to find her brother. Angered by Elçin's betrayal, what kind of punishment will Melikşah give to Elçin?
What kind of surprise awaits Terken, who reveals Elçin's true intentions and expects appreciation from Melikşah?
Meanwhile, Nizamülmülk had the clue that Hasan Sabbah left behind, who burned Khayyam's house to find out whether Gazali was alive or not. Will Nizamülmülk be able to reveal Hasan Sabbah's betrayal by following the clue?
Besides, will Nizamülmülk reveal to Melikşah the secret that he sealed in his heart when he got the news of Sencer's disappearance?
Yanis Buyuk Selcuklu Episode 7 English Subtitles Watch Free on KayiFamilyTV, Yanis Buyuk Selcuklu Episode 7 English Subtitles.
Episode Title: Yanis Buyuk Selcuklu Episode 7 English Subtitles
Air Date: 2020-11-09
Year: 2020