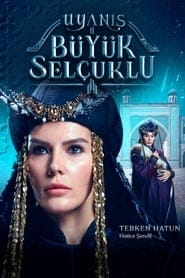 Yanis Buyuk Selcuklu Episode 8 English
Yanis Buyuk Selcuklu Episode 8 English Subtitles on KayiFamilyTV, Watch for free, Yanis Buyuk SelcukluSeason 1 Episode 8 Youtube
Sencer, who was badly injured by Yorgos, was brought to Kınık Obası in the company of Tapar. When Başulu realized that the person who brought Sencer to the camp was his son Tapar, whom he had longed for years, he could not stand it and hugged Tapar. Will Başulu feel like a mother and confess that Tapar is her son?
Struggling to cure Sencer, Turna went out of the camp to collect herbs to make medicine, where Yorgos came across her and knocked Turna unconscious. Who will save Turna from the dirty hands of Yorgos?
In addition to all these, Seferiye is investigating how Terken tricked Elçin. For this reason, he detained Firdevs, who knew all the secrets of Terken. Will Seferiye learn all the secrets of Terken from Firdevs? Will she be able to persuade him to testify against Terken? Worried that the games he has set up will be exposed, will Terken be able to prevent Seferiye?
Hasan Sabbah, who made the people who agitated the people in Isfahan, exposed and punished, became the focus of suspicion. Will Hasan Sabbah, who is on the verge of giving up the collar, able to fend off the arrows of suspicion directed at him by Melikşah?
On the other hand, Melikşah, who will learn that the holy relics have passed to Byzantium, what way will he follow to save the relics?
Yanis Buyuk Selcuklu Episode 8 English Subtitles Watch Free on KayiFamilyTV, Yanis Buyuk Selcuklu Episode 8 English Subtitles.
Episode Title: Yanis Buyuk Selcuklu Episode 8 English Subtitles
Air Date: 2020-11-16
Year: 2020