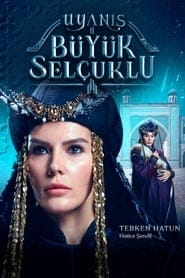 Yanis Buyuk Selcuklu Episode 9 English
Yanis Buyuk Selcuklu Episode 9 English Subtitles on KayiFamilyTV, Watch for free, Yanis Buyuk SelcukluSeason 1 Episode 9 Youtube
Sencer, who received the news that Yorgos had kidnapped Turna, took action, detained Şahbender Dukas, who he thought knew where Yorgos was, and reached Yorgos in this way. However, Yorgos predicted that Sencer would reach him in this way and set a trap for Sencer. Sencer managed to get rid of this trap. But something unexpected happened, Turna was seriously injured in the conflict. Taking advantage of this turmoil, Yorgos managed to escape with the Sacred Relics. Can the crane be saved? Will Sencer be able to catch Yorgos? Will Shahbender Dukas, who is known by everyone that Sencer detained, die?
Searching for the Sacred Relics, Tapar was drawn into a trap by the order of Ebulkasım. Tapar, who goes to Anatolia after the Sacred Relics, is blocked by the lords of the Rebel Oba. Learning that Tapar was trapped, Elçin catches up with Tapar, who was trapped with his soldiers. Will Tapar and Elçin be able to escape from this trap, which includes Christians disguised as Obalı?
Terken was established in the office of Chief Hatun, which was vacated from Seferiye. What kind of activities will Terken, who was established by making Seferiye sick, take up this position that he has long desired? How will he use this power he has acquired? What kind of surprises await Terken, who will not hesitate to confront even Nizamülmülk with this power?
Why will Basulu come to the palace where he has been away for years? Will Melikşah recognize Başulu, whom he knows and has not seen for years, because he is dead? Will the great secret be revealed? What will Nizamülmülk do against the danger of revealing the secret?
Yanis Buyuk Selcuklu Episode 9 English Subtitles Watch Free on KayiFamilyTV, Yanis Buyuk Selcuklu Episode 9 English Subtitles.
Episode Title: Yanis Buyuk Selcuklu Episode 9 English Subtitles
Air Date: 2020-11-23
Year: 2020