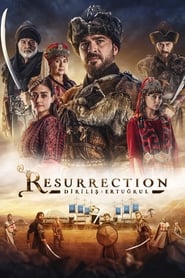 Resurrection Ertugrul Episode 100 English
Resurrection Dirilis Ertugrul Episode 100 English Subtitles on KayiFamilyTV, Watch for free, Resurrection Dirilis ErtugrulSeason 4 Episode 100 Youtube
Ertuğrul, who raided the Merchant Niko from Nikea and the Byzantine military convoy, was prepared to enter the castle in their guise and start the conquest. When the preparations were completed and about to take action, Yağız Alp brought the news that Gündüz had been kidnapped. What will Ertuğrul do after Gündüz's kidnapping? Will he delay the conquest of the castle? How will he make a plan to save Gündüz? Will he survive the day? Ares, who was glad that Titan had kidnapped Gündüz from the camp and brought him to the castle, was injured when Gündüz hit his eye with a stone in an unexpected move. Will Ares go blind? How will Ares behave towards Gündüz? What will be his new moves against Ertuğrul after he kidnaps Gündüz? Will he be able to hold Gündüz and train him as a knight from now on as he planned? Mr. Bahadir, Together with Sancar and his alps on the mountain, he took action to seize the Çavdar Obası, and killed Kırca, who followed them and learned their plans. What will Bahadır Bey do to seize the camp? Will Turgut and Aslıhan be able to prevent Bahadır Bey? What kind of developments will this attempt cause in Çavdar Obası?
Emir Saadeddin, who told Sultan Alaeddin that there were traitors in the palace, and that those who poisoned Turgut and Aslıhan and those who poisoned him were related to these traitors, received a deadline and authorization from the sultan to find and disclose them. Emir Saadeddin, who thought that Ertuğrul would tell the sultan all he knew and that his life was in danger, took action to kill Sultan Alaeddin. What plans will Emir Saadeddin make to kill the sultan? Who to contact for this? Will he be able to prevent the meeting of Ertuğrul and the sultan? Or will he fail in his plan and all his games will be exposed? What effect will Gündüz's pain have on Kayı Obası? What will Halime do with the pain of a child in her heart? Will Ertuğrul be able to bring Gündüz to the camp?
Resurrection Dirilis Ertugrul Episode 100 English Subtitles Free Watch Free on KayiFamilyTV, Resurrection Dirilis Ertugrul Episode 100 English Subtitles Free.
Episode Title: Resurrection Ertugrul Episode 100
Air Date: 2017-12-27
Year: 2017