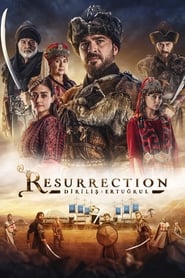 Resurrection Ertugrul Episode 106 English
Resurrection Dirilis Ertugrul Episode 106 English Subtitles on KayiFamilyTV, Watch for free, Resurrection Dirilis ErtugrulSeason 4 Episode 106 Youtube
Ares, who wanted to take revenge on Ertuğrul, secretly infiltrated Hanlı Pazar with his men. Ares and his men, who left Atsız's body in front of Ertuğrul, who came to Hanlı Pazar to talk to the merchants, attacked but were unsuccessful. The captured Ares was taken to the castle by Ertuğrul and thrown into the dungeon. Ertuğrul said that he would release Ares in return for telling Sultan Alaeddin what he knew, Ares, who resisted at first, later accepted Ertuğrul's offer and Ertuğrul took Halime with him and set out for Konya with the Alps and Ares.
Will Ares, who hopes that Titan and Angelos will save him on the way, before he reaches Konya, will he be able to survive? What dangers will Ertuğrul face on the way to Konya? Will he be able to bring Ares to the sultan's presence safely? After what Ares told, will Emir Saadeddin's true face be revealed? Will Ertuğrul be able to overthrow Emir Saadeddin?
Emir Saadeddin, who set a trap for the sultan and destroyed this trap on Emir Nizameddin, his biggest rival in the palace, became the sultan's most favorite emir and got rid of all doubts. What will Emir Saadeddin do when he learns that Ertuğrul is coming to Konya and thinks he will tell the sultan everything he knows? How will he defend himself against what Ertuğrul will tell and Ares' confessions? Will the Sultan punish Emir Saadeddin after what he heard?
How will Titan and Angelos attack Turkish tribes in the absence of Ertuğrul? What insider intelligence will Marya, Angelos' spy inside, give? Will Marya turn out to be a spy? What will be the situation of Karacahisar Castle and Turkish tribes?
Resurrection Dirilis Ertugrul Episode 106 English Subtitles Free Watch Free on KayiFamilyTV, Resurrection Dirilis Ertugrul Episode 106 English Subtitles Free.
Episode Title: Resurrection Ertugrul Episode 106
Air Date: 2018-02-14
Year: 2018