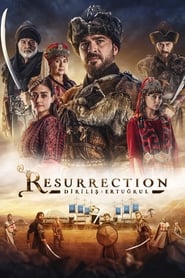 Resurrection Ertugrul Episode 112 English
Resurrection Dirilis Ertugrul Episode 112 English Subtitles on KayiFamilyTV, Watch for free, Resurrection Dirilis ErtugrulSeason 4 Episode 112 Youtube
Ertuğrul set up a game and enabled Ahmet to save Kritos, and in this way, Ahmet gained the trust of Kritos. That's why Kritos sent Ahmet as an ambassador to the Dog. Ahmet, on the other hand, won the trust of Dog by saving his life. While Günalp was thinking that Ertuğrul would kill him, he found himself in Söğüt with him. The dog tried to bring the sultan against Ertuğrul in order to pull Ertuğrul's rope and took the state officials with him. In this way, he had the sultan sign an edict to take Ertuğrul's border principality from him. Aslıhan and the gentlemen's concerns about immigrating to Söğüt had increased. Ertuğrul and Kritos faced each other in Söğüt and Kritos fell into Ertuğrul's hands. Then, with an edict from the palace,
Will Ertuğrul be able to overcome the games that the Dog has turned against him? What will the relationship between these two lead to when the border principality passes from Ertuğrul to Günalp? What will Ahmet do next to the Dog? What will be the fate of Marya?
What will be the situation in Kayı Obası after the loss of the border principality? What will be the attitude of the Ryes regarding the migration to Söğüt? Will Dog's growing influence allow him to take over the state completely? Will he succeed in provoking Günalp against Ertuğrul? Who will the dog target after Altunaba? What will be the move of Sultan Gıyaseddin against the Dog?
Resurrection Dirilis Ertugrul Episode 112 English Subtitles Free Watch Free on KayiFamilyTV, Resurrection Dirilis Ertugrul Episode 112 English Subtitles Free.
Episode Title: Resurrection Ertugrul Episode 112
Air Date: 2018-03-28
Year: 2018