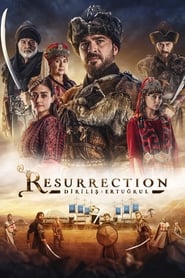 Resurrection Ertugrul Episode 114 English
Resurrection Dirilis Ertugrul Episode 114 English Subtitles on KayiFamilyTV, Watch for free, Resurrection Dirilis ErtugrulSeason 4 Episode 114 Youtube
The showdown between Ertuğrul and Günalp resulted in Ertuğrul defeating Günalp and forgiving him. Meanwhile, Aslıhan Hatun, who left the group to kill the dog, could not reach her goal and lost her own life. Obadakiler and Turgut were devastated by Aslıhan's unexpected death. Mahperi Hatun, who learned that the dog was trying to be killed, wanted to complete the unfinished business, but the dog was removed from the palace thanks to Kayraldı. When Günalp learned that the Dog was attacked, he took action again to kill Ertuğrul. On the other hand, Tekfur Kritos sent Ahmet to Nikea to the emperor's side, while Sultan Gıyaseddin, in cooperation with Ertuğrul, commissioned the Sivas Emir Hüsameddin Karaca to kill the dog.
Will Ertuğrul be able to unite with Hüsameddin Karaca and cut the dog's punishment? Will Aslıhan's revenge be taken? What will Turgut do, shaken by Aslıhan's death? Will Ahmet be able to fulfill the task that Tekfur Kritos gave him? Will it be discovered that Marya is spying for the Dog? Will Günalp, who is blinded by his loyalty to the Dog, realize that the Dog is a traitor? Will Gıyaseddin and Mahperi be able to prevent the irrepressible rise of the Dog? What will be the fate of Kayı Obası in the absence of Ertuğrul and the alps?
Resurrection Dirilis Ertugrul Episode 114 English Subtitles Free Watch Free on KayiFamilyTV, Resurrection Dirilis Ertugrul Episode 114 English Subtitles Free.
Episode Title: Resurrection Ertugrul Episode 114
Air Date: 2018-04-11
Year: 2018