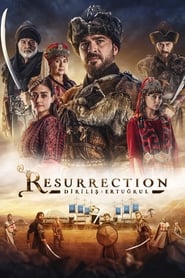 Resurrection Ertugrul Episode 115 English
Resurrection Dirilis Ertugrul Episode 115 English Subtitles on KayiFamilyTV, Watch for free, Resurrection Dirilis ErtugrulSeason 4 Episode 115 Youtube
Gıyaseddin and Mahperi, who left the palace to avoid the persecution of the Dog, came to Kayı Obası on the advice of Ertuğrul. Ertuğrul, on the other hand, managed to save Kamyeri, which was captured by the Dog's soldiers. Afterwards, thanks to Ertuğrul's plan, Hüsameddin Karaca and Togan gained the trust of the Dog. In Obada, Hafsa became ill due to her pregnancy and was sent to a hospital in Konya upon Mahperi's suggestion. Ahmet had given Kritos the news that the emperor would give an army. Dog, who learned that Kamyeri was saved by Ertuğrul, went mad with anger. While Marya was giving the information to be sent to Aydoğmuş, Ahmet learned that he was spying. Aydoğmuş found the square empty with Günalp's departure and attacked the camp with his soldiers to kill the sultan and his mother.
What will happen in Ertuğrul's showdown with Günalp and Dog? Will Ertuğrul and the alps be able to reach their goal and get out of the Dog's camp safely? Will Ahmet be able to distract Tekfur Kritos from attacking the tribe? Can the attack on Obama be averted? What will happen between Mahperi and Hayme and Halime? Will Gıyaseddin and Mahperi be able to return to the palace?
Resurrection Dirilis Ertugrul Episode 115 English Subtitles Free Watch Free on KayiFamilyTV, Resurrection Dirilis Ertugrul Episode 115 English Subtitles Free.
Episode Title: Resurrection Ertugrul Episode 115
Air Date: 2018-04-18
Year: 2018