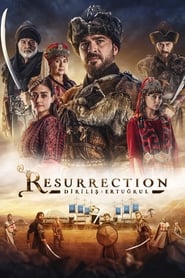 Resurrection Ertugrul Episode 122 English
Resurrection Dirilis Ertugrul Episode 122 English Subtitles on KayiFamilyTV, Watch for free, Resurrection Dirilis ErtugrulSeason 5 Episode 122 Youtube
t has been ten years since Kayılar, under the leadership of Ertuğrul Bey, settled in their new homeland, Söğüt; In the last ten years, the Seljuk State was defeated by the Mongols in the Kösedağ War and the state came under Mongol domination. But Ertuğrul, despite everything, revived Söğüt and gained the trust of the Muslim and non-Muslim people here. On the other hand, he raised and raised his sons himself.
Ertuğrul's power in Söğüt disturbs the Mongols. The Mongols take action to break Ertuğrul's power through the Seljuk viziers, which they dominate. While Ertuğrul was the one who collected the taxes in Söğüt until this time, another oba was assigned to collect the taxes from now on. In addition, this camp is given a dormitory in Söğüt. The master of this tribe sends his daughter to Söğüt from the front for espionage activities, and the girl's path crosses with Ertuğrul through Osman. After that, big events occur between Ertuğrul and this girl and her obsession.
On the other hand, over the years, a secret organization emerges that cannot accept the revival of Söğüt by the Turks and wants to take Söğüt from Ertuğrul. The leader of this organization managed to infiltrate Ertuğrul Bey's closest people in a different guise. He placed his men all over Söğüt with different identities. This organization, which does not want Ertuğrul Bey's power to rise further, begins to attack Ertuğrul with secret activities from all branches.
The domination of the state on the one hand, the Mongol pressures on the one hand, and the secret organization taking action to take Söğüt from the Turks, on the other hand, will put Ertuğrul in a big grip.
Will Ertuğrul be able to protect his obsession and his children from these dangers under all these difficult conditions?
Who will be the biggest supporters of Ertuğrul in this great pressure?
What purpose will Ertuğrul be led by the domination of the state and the loss of its power?
Resurrection Dirilis Ertugrul Episode 122 English Subtitles Free Watch Free on KayiFamilyTV, Resurrection Dirilis Ertugrul Episode 122 English Subtitles Free.
Episode Title: Resurrection Ertugrul Episode 122
Air Date: 2018-11-07
Year: 2018