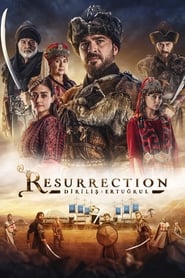 Resurrection Ertugrul Episode 123 English
Resurrection Dirilis Ertugrul Episode 123 English Subtitles on KayiFamilyTV, Watch for free, Resurrection Dirilis ErtugrulSeason 5 Episode 123 Youtube
Osman, fighting to save Teokles and his daughters, was rescued by İlbilge Hatun while fighting and brought to the camp in a wounded state. After the investigations Ertuğrul had made, he learned that someone named Dragos was behind this incident and ordered him to be found immediately. Ertuğrul learned from the Mongolian patrol unit that came to the camp that Hülagü Han had doubled the taxes, and meanwhile, he cut off the arrogant commander's hand and set out for Konya to solve all the issues.
Ertuğrul and his alps were ambushed by the elder brother of the Mongol commander, whose hand was cut off, and Ertuğrul was saved by the Aksakals. A blessed duty will be given to Ertuğrul, who joins the Aksakal people and owns a post there. What important task will Ertuğrul undertake for the Turkish state and existence? What will he do for this task? And what difficulties will he encounter on this path?
It was learned that Ilbilge, who introduced herself as a Cobanogullari and was loved and respected by everyone in the village, was actually the daughter of Umuroğulları Bey, Umur Bey, who was charged with collecting taxes and keeping a home in Söğüt. İlbilge came to the camp with his father Umur Bey and his alps, and Umur Bey wanted to enter Ertuğrul's tent, but Gündüz had a dagger in his throat. How will Ilbilge respond to this situation? Where will the tension between Kayılar and Umuroğulları lead? What will he do to Umur Bey, who has a dagger in his throat during the day?
On the other hand, Dragos, who hides himself as a sexton in Söğüt, but is the leader of a Christian organization, continues his secret activities against Ertuğrul. He sent his man, Teo, to Ertuğrul's camp and commissioned him to kill Teokles. Will Teo be able to fulfill this task? Thanks to the men he secretly commissioned, Dragos, who led Gündüz into the usury trap and caused a shock in Ertuğrul's family, which trap will he activate now?
Resurrection Dirilis Ertugrul Episode 123 English Subtitles Free Watch Free on KayiFamilyTV, Resurrection Dirilis Ertugrul Episode 123 English Subtitles Free.
Episode Title: Resurrection Ertugrul Episode 123
Air Date: 2018-11-14
Year: 2018