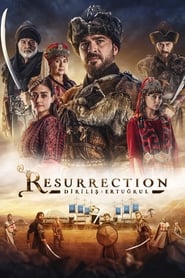 Resurrection Ertugrul Episode 124 English
Resurrection Dirilis Ertugrul Episode 124 English Subtitles on KayiFamilyTV, Watch for free, Resurrection Dirilis ErtugrulSeason 5 Episode 124 Youtube
A great tension arose between Kayılar and Umuroğulları when İlbilge Hatun's father, Umur Bey, came to the oba as the tax collectors of the state. While these were happening, Ertuğrul, who was among the Aksakallılar, was tasked with taking back the chest, which was the secret of the state, from the Mongols. In this mission, he managed to save the chest from the Mongols, but he could not get the key of the chest. He had assigned Turgut and Mergen to seize the key. Will Turgut and Mergen be able to reach the key of the secret chest?
Dragos continued to disguise himself as a bell ringer and continued to play all kinds of games on Ertuğrul. By killing the Alps of the Umuroğulları in order to set the Kayılar and the Umuroğulları against each other, he ensured that this crime was placed on Gündüz. What will be the last trap of Dragos, who is not satisfied with this, that will leave Ertuğrul in a very difficult situation? Where will this growing tension between Kayılar and Umuroğulları lead? In the place where Dragos' men attacked the Umuroğulları Alps, Osman and the prosecutor also witnessed the fighting. Dragos' men noticed them and went after them. Will Osman and the prosecutor be able to get rid of Dragos' men? Ataç, who ate an arrow from his back in this turmoil, came to the inn with difficulty and there was a great tension between İlbilge and Gündüz. As a result of this tension, İlbilge unintentionally stabbed Ertuğrul.
How will Ertuğrul react to all these events? Will he be able to overcome the traps set on him and protect his tribe and family?
Resurrection Dirilis Ertugrul Episode 124 English Subtitles Free Watch Free on KayiFamilyTV, Resurrection Dirilis Ertugrul Episode 124 English Subtitles Free.
Episode Title: Resurrection Ertugrul Episode 124
Air Date: 2018-11-21
Year: 2018