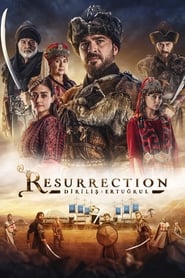 Resurrection Ertugrul Episode 134 English
Resurrection Dirilis Ertugrul Episode 134 English Subtitles on KayiFamilyTV, Watch for free, Resurrection Dirilis ErtugrulSeason 5 Episode 134 Youtube
In the game that Dragos prepared to kill Ertuğrul in front of the church, the conditions suddenly changed and Zangoç had to protect Ertuğrul at the cost of his life. In the conflict, Abdurrahman was fighting for his life in the arms of Ertuğrul, who was seriously injured. Will Abdurrahman live?
The secret activities of Ertuğrul Bey, who had to deal with Dragos on one side and Beybolat on the other, did not escape the attention of the Mongols. The disappearance of the taxes collected from Anatolia with the chest that Hulagü Han was after and containing the secrets of the Seljuk State, pointed to Ertuğrul. The Mongols, who wanted to end the troubles for themselves, sent one of their most brutal commanders to Söğüt. The Mongolian commander Hayme Ana and those in the tent, who raided the Kayı tribe with his Nökers, were captured. Will Ertuğrul be able to save his family that fell into the hands of the Mongols?
The Mongolian commander declared Beybolat Bey, who secretly worked for them, as Uç Bey. What will Ertuğrul do in the face of this situation? What changes will occur in the layout of Söğüt?
Who is this Mongolian commander who raided Kayı Obasi? What will be the new plan of Dragos, who takes advantage of the Mongols who raided Kayı Obası?
Resurrection Dirilis Ertugrul Episode 134 English Subtitles Free Watch Free on KayiFamilyTV, Resurrection Dirilis Ertugrul Episode 134 English Subtitles Free.
Episode Title: Resurrection Ertugrul Episode 134
Air Date: 2019-01-30
Year: 2019