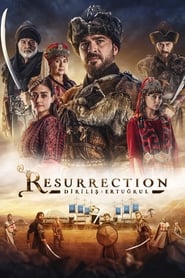 Resurrection Ertugrul Episode 136 English
Resurrection Dirilis Ertugrul Episode 136 English Subtitles on KayiFamilyTV, Watch for free, Resurrection Dirilis ErtugrulSeason 5 Episode 136 Youtube
The terrible plans of the Mongols eventually overtook the Kayı tribe, and Altıncak had Osman kidnapped to make him mankurt. Ertuğrul Bey, who wrote a letter to İlbilge Hatun, asked him for support and to gather information about Osman. At the same time, he wrote a fake letter from Hülagü Han's mouth to Alincak, who wanted to take the Lefke castle with a mind game he had set up, and stopped a possible war. Ertuğrul, who also secretly listened to Alancak, who came to the Lefke castle for cooperation, found Osman's location with this information, but Osman was poisoned by the Shaman. So, will Osman be able to recover again?
Beybolat, who took over the administration of Söğüt and Oba thanks to the Mongols, continued his game and had Süleyman imprisoned with the power of being a margrave. What will Ertuğrul do in the face of Beybolat's attitude? Will he be able to save Süleyman from prison and bring his obsession to safety? Will he be able to reveal the true identity of Zangoç, whom he suspects amid all this? Where will the tension between Sırma and Selcan, which has reached its peak in Obada, lead? Will Ertuğrul Bey be able to kill the cruel Mongolian commander, Altıncak, who haunts his oba and Söğüt?
The answers to all these questions and more are in Diriliş Ertuğrul in the 136th episode!
Resurrection Dirilis Ertugrul Episode 136 English Subtitles Free Watch Free on KayiFamilyTV, Resurrection Dirilis Ertugrul Episode 136 English Subtitles Free.
Episode Title: Resurrection Ertugrul Episode 136
Air Date: 2019-02-13
Year: 2019