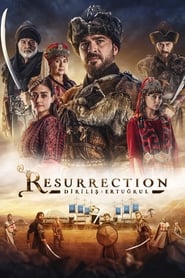 Resurrection Ertugrul Episode 139 English
Resurrection Dirilis Ertugrul Episode 139 English Subtitles on KayiFamilyTV, Watch for free, Resurrection Dirilis ErtugrulSeason 5 Episode 139 Youtube
Ertuğrul Bey, who confronted Alincak, said that he would deliver Sultan Keykavus to him and asked his brother Gündoğdu to be cured and to stop tracking the gold. Afraid of Hulagu Khan's wrath in a possible failure, Commander Alincak seemed to have accepted these conditions. A surprise was waiting for the Mongols, who went to take Sultan Keykavus from the point where Ertuğrul Bey pointed…
Dragos, who watched the events from the outside, recognized the former sultan and killed the Mongolian soldiers to kidnap him. While Beybolat and his soldiers, who came to help the Mongols, were dealing with Dragos' men, Turgut, Bamsı and Alpler kidnapped Sultan Keykavus and killed Yinal, the chief alp of Beybolat, and Subutay, the chief of Commander Alincak.
During all these events, Ertuğrul Bey and his alps landed in Söğüt and took back the center of the border principality. While these were happening on the front of Ertuğrul Bey and Dragos, Alincak, who had to reluctantly give an amnesty and promised Ertuğrul Bey that he would let go of the gold, had made another plan by giving it to Beybolat. A trap was set for Süleyman, who took this grant to his father so that the pardon would not reach Gündoğdu. The situation of Süleyman, who was taken to the cave by Beybolat's men, was alarming.
Will Solomon speak? What will be the new game of Beybolat, who lost Söğüt and his border principality, as well as his closest man Yınal? What will Dragos and his men learn from the ballot box they obtained, trying to draw a path between Ertuğrul and Altıncak? How will Sırma and İlbilge, who are very sad because they lost their border principality, will follow? The answers to all these questions and more are in Diriliş Ertuğrul in the 139th episode!
Resurrection Dirilis Ertugrul Episode 139 English Subtitles Free Watch Free on KayiFamilyTV, Resurrection Dirilis Ertugrul Episode 139 English Subtitles Free.
Episode Title: Resurrection Ertugrul Episode 139
Air Date: 2019-03-06
Year: 2019