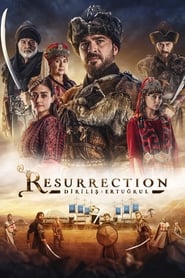 Resurrection Ertugrul Episode 141 English
Resurrection Dirilis Ertugrul Episode 141 English Subtitles on KayiFamilyTV, Watch for free, Resurrection Dirilis ErtugrulSeason 5 Episode 141 Youtube
When Erturul Bey finds out that Altncak has Mergen in his custody, he becomes determined to rescue Mergen, locate Altncak and Beybolat, and exact revenge for the death of his nephew Süleyman. Uranos receives a legitimate order that was given by Hulaga Han from Erturul Bey, who offers them collaboration and asks him to send the order to Alincak. This is all part of Erturul Bey's plan to reach Alincak by setting up a game against Dragos. In exchange, he promises to defend his fortifications against attacks from the Mongols.
While Uranos travels to Alancak to deliver the order, Erturul Bey and Alps conceal themselves in order to locate Alancak and Albast. Mergen was rescued from their hands, but Gündüz was hurt in the process. Will he get through the Day alive? Will Ertuğrul Bey be able to murder Albastı and Altıncak?
While he is desperately waiting, Dragos misses all of the opportunities he currently has and wants to begin a new game. After pursuing Beybolat, he eventually catches up with him in a hidden cellar and confesses to him that he is indeed Dragos. He does this by claiming that Erturul Bey murdered his father, which both provokes and promises assistance. Following this gathering, a new coalition of evildoers is established. So, tell me about this new game that Dragos is going to build instead of Beybolat.
Sirma, who on the orders of Beybolat in Oba plants the seeds of conflict between Hafsa and Selcan, is gradually subjected to the consequences of the game that she has created for herself. The conflict that breaks out between Selcan and Hafsa as a direct result of Srma's game raises the stakes in the camp. What will happen as a direct consequence of the tension that exists between Hafsa and Selcan?
In Diriliş Erturul, chapter 141, you'll find the solutions to all of these questions and many more besides!
Resurrection Dirilis Ertugrul Episode 141 English Subtitles Free Watch Free on KayiFamilyTV, Resurrection Dirilis Ertugrul Episode 141 English Subtitles Free.
Episode Title: Resurrection Ertugrul Episode 141
Air Date: 2019-03-20
Year: 2019