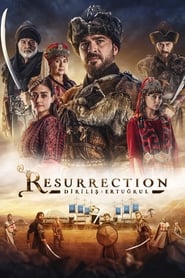 Resurrection Ertugrul Episode 143 English
Resurrection Dirilis Ertugrul Episode 143 English Subtitles on KayiFamilyTV, Watch for free, Resurrection Dirilis ErtugrulSeason 5 Episode 143 Youtube
Erturul Bey lured Alincak toward himself using the trap he had set up and successfully captured him in it. Beybolat Bey, who was following him, shot an arrow at Altncak that was lethal so that his identity as "Albast" would not be exposed; nonetheless, he healed Erturul Bey and Alps Altncak. This was done to protect Altncak's anonymity. Will Alincak reveal the truth about who Beybolat really is?
On the other side, Erturul Bey perpetrated a trap on Zangoc, which the latter already had a suspicion about, and disclosed his relationship with Uranos. Uranos was led to the trap established by Erturul Bey by Zangoc, who himself had been caught in the snare laid by Erturul Bey. Ertuğrul Bey seized Uranos. Will Uranos finally come clean and disclose that Dragos is really a Zangoc?
Beybolat Bey was successful in pitting Hafsa and Selcan against one another. He accomplished this by instructing his brother Srma to sow discord inside the Kay group. As a result of Bams's removal from his position as leader of the Alpine people and his subsequent departure from the Alps, the tension among the tribe rose, and Hafsa considered leaving it. Beybolat, who used his deceitful games to try to wear down the Kay tribe, played his final game by kidnapping Aybars by attacking Bams's family on the Sot road. This was his final attempt to bring down the Kay tribe. After learning about the incident, Bams clung to his cloak and pursued the individuals who were responsible for his son's abduction. What chances does Bamsi have of rescuing his kid Aybars? Will Aybars make it out alive?
Erturul Bey was responsible for Zangoc's incarceration. Accidentally injuring Oguz and Melikşah while Zangoc was being transported to the dungeon, Zangoc caused their injuries. Will Meliksha and Oguz be able to make it through this alive? Will Zangoc's true identity eventually be made known?
In Diriliş Erturul, chapter 143, you'll find the solutions to all of these questions and many more besides!
Resurrection Dirilis Ertugrul Episode 143 English Subtitles Free Watch Free on KayiFamilyTV, Resurrection Dirilis Ertugrul Episode 143 English Subtitles Free.
Episode Title: Resurrection Ertugrul Episode 143
Air Date: 2019-04-03
Year: 2019