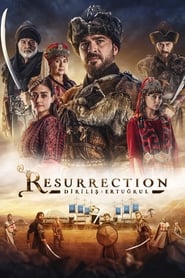 Resurrection Ertugrul Episode 145 English
Resurrection Dirilis Ertugrul Episode 145 English Subtitles on KayiFamilyTV, Watch for free, Resurrection Dirilis ErtugrulSeason 5 Episode 145 Youtube
Erturul, who was responsible for the death of Alancak and the capture of Dragos thanks to the trap that he prepared, was able to rescue Bams's son Aybars. After Alancak's death, Albast and Beybolat, who believed that his name would not be exposed, went back to the camp as if nothing had happened. They pretended as nothing had happened. When Branas, the commander of the Lefke fortress, found out that Dragos had been captured, he devised a strategy to free Dragos over the Beybolat mountain range.
Ertu'rul, on the other hand, was aware of everything… He was aware that others inside the castle would rush to Dragos's rescue, and he was also aware that if he were Albast, he would make a fresh move concerning Dragos in order to conceal his true identity… He had prepared himself for the situation appropriately. While this was going on, he began to have second thoughts regarding the identity of his brother's Albast, who was concerned about the injured guy that had been brought to the Umur tribe in Ilbilge. During all of this that was taking place, Bams, who had disobeyed Erturul Bey's order, was feeling a great deal of regret.
Will Erturul Bey, who was responsible for bringing Dragos to Macellum for his death and disguising his alps as the populace, be able to discover Albast's identity through Dragos? What will become to Branas and his troops now that they have returned from their mission to free Dragos from the Citadel? Will Bamsi, who overhears a discussion about repentance from the imam of Sot and pleads for forgiveness from Erturul Bey, be successful in accomplishing this objective? What kind of reaction do you think Beybolat Bey, the older brother of lbilge Hatun, will have to the information he has obtained?
Resurrection Dirilis Ertugrul Episode 145 English Subtitles Free Watch Free on KayiFamilyTV, Resurrection Dirilis Ertugrul Episode 145 English Subtitles Free.
Episode Title: Resurrection Ertugrul Episode 145
Air Date: 2019-04-17
Year: 2019