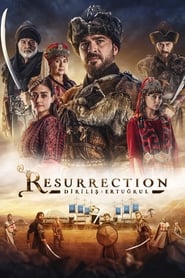 Resurrection Ertugrul Episode 146 English
Resurrection Dirilis Ertugrul Episode 146 English Subtitles on KayiFamilyTV, Watch for free, Resurrection Dirilis ErtugrulSeason 5 Episode 146 Youtube
Erturul Bey was successful in capturing Alincak and Dragos, both of whom he had been tracking for some time. He then brought them to Macellum, where he murdered Alincak and put Dragos to death. Beybolat, who had planned to spare Dragos' man, the leader Branas, from execution, did not follow the plan in order to prevent his identity from being revealed at the very last moment and attacked Dragos' soldiers with Erturul's Alps instead. As a result, everyone who knew that he was Albast would have perished, which would clear Erturul Bey's name and put an end to his suspicions.
Dragos, who had gotten rid of Erturul Bey and assaulted Erturul Bey, was slain at Soüt Square by Erturul Bey, who was prepared for this eventuality. When Branas attacked, Dragos had gotten free of Erturul Bey and attacked Erturul Bey.
Bams' resistance to Dragos's soldiers, who were pressing Gündüz, allowed him to save Gündüz despite the fact that he suffered significant injuries as a result. He then travelled to Soüt in an effort to seek forgiveness from Erturul Bey, who he had wronged. Bams, who was cared for in the Obada, presented Erturul Bey with remorse and apologised for his actions.
Ilbilge, who has developed increasing scepticism regarding her brother Beybolat, lends her backing to Erturul Bey's plan and assists him in ensnaring his brother. What kind of a demise is in store for Beybolat, who it turns out is Albast, because of this trap? What kind of reaction do you think Ilbilge will have when he discovers that Albasti is indeed his brother?
Years later, Gündodu made his way to Sot, despite the fact that he had remained in Aleppo and had not accompanied his brother Erturul to the Byzantine frontier. What will be different as a result of Gundodu joining the Kay group? What kinds of perils will his two brothers face as they make their way to the battlefield against the Mongols?
In episode 146 of Diriliş Erturul, you'll find the solutions to all of these questions and many more besides!
Resurrection Dirilis Ertugrul Episode 146 English Subtitles Free Watch Free on KayiFamilyTV, Resurrection Dirilis Ertugrul Episode 146 English Subtitles Free.
Episode Title: Resurrection Ertugrul Episode 146
Air Date: 2019-04-24
Year: 2019