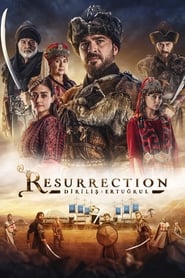 Resurrection Ertugrul Episode 149 English
Resurrection Dirilis Ertugrul Episode 149 English Subtitles on KayiFamilyTV, Watch for free, Resurrection Dirilis ErtugrulSeason 5 Episode 149 Youtube
After Erturul Bey had finished off Albast, he went back to the camp to free his brother Gündodu from the ambush set by Arkbuka and then returned to the camp. As a result of Erturul Bey and Gundodu's safe return to the camp, the camp was transformed into a site of celebration. Turgut, who had been gravely hurt in the war, made a full recovery. Erturul Bey reaffirmed his happiness by having a conversation with lbilge Hatun, the woman he had previously committed to marrying, and he emphasised that he hoped to resolve this matter as quickly as possible.
Will Ertuğrul Bey and İlbilge get married?
She stated that she wished to contact with Srma Arkbuka, who was unable to come to terms with the death of her brother, and to work along with her. Arkbuka used this information to figure out where Erturul Bey and the men working for Berke Han would meet, and he then devised a trap for Erturul Bey.
Will Erturul Bey be successful in evading capture using these methods? What will the outcome be as a direct consequence of the nefarious collaboration between Srma and Arkbuka?
The 149th episode of Diriliş Erturul contains the responses to all of these topics and a lot more besides!
Resurrection Dirilis Ertugrul Episode 149 English Subtitles Free Watch Free on KayiFamilyTV, Resurrection Dirilis Ertugrul Episode 149 English Subtitles Free.
Episode Title: Resurrection Ertugrul Episode 149
Air Date: 2019-05-15
Year: 2019