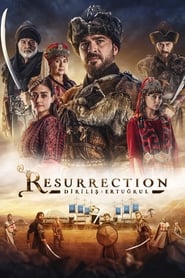 Resurrection Ertugrul Episode 54 English
Resurrection Dirilis Ertugrul Episode 54 English Subtitles on KayiFamilyTV, Watch for free, Resurrection Dirilis ErtugrulSeason 2 Episode 54 Youtube
In the 53rd episode of Diriliş "Ertuğrul", the phenomenon series of TRT 1 screens, all the actions of Gümüştekin and Aytolun were revealed. Aytolun, who set out to kill Selcan, encountered a great surprise. Hayme Ana, unexpectedly, appears before Aytolun and says that she knows all she has done. Aytolun, shocked by what happened with Goncagül, puts his dagger in Halime's throat and threatens to kill her. But Aytolun is killed by Rahman. Goncagül, on the other hand, escaped. Selcan, who followed Goncagül, found the mushroom Gündoğdu was looking for for his arm there. On the other hand, Ertuğrul brought Gümüştekin to the camp. Gümüştekin, who was brought to court, denies all the accusations. However, witnesses described everything they did with Gümüştekin's brother Aytolun. While Gümüştekin is about to be executed, Saadettin Dog comes to the camp and demands that the criminal be handed over to him. However, Ertuğrul opposes this. Upon the insistence of Saadettin Dog, Ertuğrul shoots Gümüştekin's kelek and delivers it to him. What will be Saadettin Dog's reaction to these experiences?
Diriliş Ertuğrul, the series watched with interest on TRT1 screens, this week; Why are celebrations held in Obada? What is the shocking event about Gündoğdu? What issue does Ertuğrul bring up at the toy? Will Goncagül's plans with Noyan be successful? Who is the hidden traitor in Oba? Will Ertuğrul be able to save Dündar and Yiğit, who were trapped by Noyan? The answer to all these questions is in the 54th episode of Diriliş Ertuğrul…
Resurrection Dirilis Ertugrul Episode 54 English Subtitles Free Watch Free on KayiFamilyTV, Resurrection Dirilis Ertugrul Episode 54 English Subtitles Free.
Episode Title: Resurrection Ertugrul Episode 54
Air Date: 2016-04-06
Year: 2016