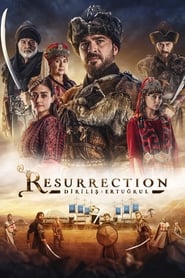 Resurrection Ertugrul Episode 60 English
Resurrection Dirilis Ertugrul Episode 60 English Subtitles on KayiFamilyTV, Watch for free, Resurrection Dirilis ErtugrulSeason 2 Episode 60 Youtube
In the 60th episode of Resurrection "Ertuğrul", the phenomenon series of TRT 1 screens, Ertuğrul once again spoiled Saadettin Dog's game by catching Noyan. Ertuğrul does not kill Noyan, nor does he allow Turgut to kill him. Angry at this decision, Turgut left both Ertuğrul and the oba. Ertuğrul, on the other hand, intends to reveal his cooperation with Saadetin Dog by not killing Noyan. On the other hand, Saadetin Dog is alarmed when he learns that Noyan and Boğaç have been captured by Ertuğrul. The speech of Noyan and Boğaç will cause all their actions to be revealed.
In Obada, the mourning of Tuğtekin and Gökçe continues. The people of Dodurga started to work for the candidate who will replace Tuğtekin Bey. The election, in which Artuk and Akça were candidates, was quite harsh. With the help of Saadetin Dog, Akça Bey became the new ruler of the Dodurgans. Ertuğrul goes to the camp to get Halime before he goes to the Sultan. Sungur, on the other hand, went after Yiğit with the help of Gündoğdu. With Sungur Tekin, who finds Yiğit's place, a quarrel ensues between the alps. Meanwhile, Ertuğrul, returning from the camp, kills Noyan. Sungur intervenes to prevent Tekin from killing the prince. However, in the brawl, Sungur Tekin received a heavy wound.
Diriliş Ertuğrul, the series watched with interest on TRT1 screens, this week; What will happen to Sungur Tekin? Will Sungur Tekin survive? What is Ertuğrul accused of? What move does Ertuğrul make against Gündoğdu's rest? Who will be the new lord of Kayılar? What will be Hayme's reaction to the tension between the brothers? What is the big decision Ertuğrul made? The answer to all these questions is in Chapter 60 of Resurrection.
Resurrection Dirilis Ertugrul Episode 60 English Subtitles Free Watch Free on KayiFamilyTV, Resurrection Dirilis Ertugrul Episode 60 English Subtitles Free.
Episode Title: Resurrection Ertugrul Episode 60
Air Date: 2016-06-01
Year: 2016