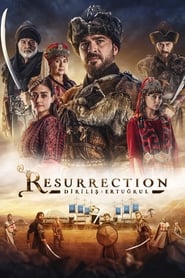 Resurrection Ertugrul Episode 63 English
Resurrection Dirilis Ertugrul Episode 63 English Subtitles on KayiFamilyTV, Watch for free, Resurrection Dirilis ErtugrulSeason 3 Episode 63 Youtube
When the wolf is ambushed, he does not think of escape, but of revenge.
Ertuğrul Bey, who fulfilled his espionage duty from Sultan Alaeddin by entering the wolf's hide, was injured in the operation he carried out to save the Sultan's messenger and was on the verge of being captured. How will Ertuğrul Bey save himself and the sultan's messenger from this difficult situation?
New lands, new strategy When
Ertuğrul Bey, who is now an oba bey, was added to his skill in using a sword, and the effort to trade in Hanlı Pazar, Kayılar entered into an unfamiliar struggle. Because Hanlı Pazar was no different from a dirty swamp, which was the cradle of trade and also housed the most skilled tradesmen such as Ural and Simon. What steps will Ertuğrul Bey have to take in order to survive in this unfamiliar environment?
There is a game in the game!
Candar Bey, the chief of Çavdaroğlu Obası, is under the unbelievable death of Toktamış, his right-hand man and best friend. His son Ural, against whom he took a front because of the unconventional trade he made in the market, made himself a bulwark for Candar Bey in the attack made by Toktamış. What will he do in the face of this move made by Candar Bey's son Ural? What are the new steps that Ural Bey will take to continue this game he founded?
Familiar enemies of foreign lands…
The Templars, the old enemies of Ertuğrul, were holding the Hanlı Pazar and all commercial activities in this new land. Headed by Innkeeper Simon, this network carries out commercial activities and maintains the regional economy; On the other hand, he was trying to leave Anatolia defenseless against the Crusade to be made. As a result of this activity, Simon, who seized the Sultan's messenger, would he learn that Ertuğrul, who came to save him, was the Sultan's spy?
Kayı: A boiling cauldron surrounded by fire on all four sides,
This behavior of Ertuğrul Bey, who refused the gentlemen's demand for a toy, was met with a reaction even in his own tent. What are the decisions to be taken in the event that is gathered in the face of repeated demands? While the good news of Haçaturyan, who saved his life and allowed him to come to his camp, will give hope to Ertuğrul Bey, what development will cause the fire in Kayı Obası to get even hotter.
Resurrection Dirilis Ertugrul Episode 63 English Subtitles Free Watch Free on KayiFamilyTV, Resurrection Dirilis Ertugrul Episode 63 English Subtitles Free.
Episode Title: Resurrection Ertugrul Episode 63
Air Date: 2016-10-31
Year: 2016