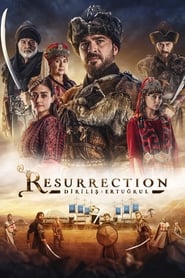 Resurrection Ertugrul Episode 64 English
Resurrection Dirilis Ertugrul Episode 64 English Subtitles on KayiFamilyTV, Watch for free, Resurrection Dirilis ErtugrulSeason 3 Episode 64 Youtube
The roads to victory are filled with pain and tears.
After a long period of hardship, the Kayılar breathed a sigh of relief with their rug trade for the first time. However, this comfort leaves its place to a troubled period again when the caravan carrying the rugs is raided. More difficult times have begun for Ertuğrul Bey. Ertuğrul Bey, who had just ensured the peace of the oba, faced a new dilemma with the addition of the sadness of the martyred alps to the economic troubles that occurred again. What kind of path will Ertuğrul Bey follow, who is caught between the feeling of revenge and political problems?
Darkness creates opportunities for evil.
Ural Bey, a victim of his ambition, took a big risk with the raid he had made. Now the move he has to make is clear; getting rid of the accusations made against him… Simon, who watches the events from afar, has the opportunity to change the balance with the opportunity he suddenly gets. Using this trump card without hesitation, will Simon be able to reach his goal?
And the light blinds the fitna.
Will Aliyar, who makes a quick entrance to Oba, will be able to get out of the ring of fire that he is in the middle of all of a sudden? Horrified by what he saw, Aliyar is stuck between the facts with his sense of justice and mercy. Aliyar's decisions and Candar Bey's unexpected offer to Ertuğrul Bey will determine the fate of the two tribes.
Resurrection Dirilis Ertugrul Episode 64 English Subtitles Free Watch Free on KayiFamilyTV, Resurrection Dirilis Ertugrul Episode 64 English Subtitles Free.
Episode Title: Resurrection Ertugrul Episode 64
Air Date: 2016-11-09
Year: 2016