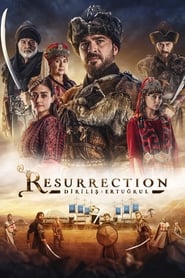 Resurrection Ertugrul Episode 65 English
Resurrection Dirilis Ertugrul Episode 65 English Subtitles on KayiFamilyTV, Watch for free, Resurrection Dirilis ErtugrulSeason 3 Episode 65 Youtube
Unexpected offers are pregnant with unexpected answers…
Ertuğrul Bey, who was a guest of the Çavdar Obasi upon the invitation of Candar Bey, received an unexpected offer from Candar Bey. What will Ertuğrul Bey answer to Candar Bey's joint kilimhane offer? On the one hand, the economic trouble of Kayı Obası, on the other hand, the existence of Ural Bey, who has not reconciled with Ertuğrul Bey from the very beginning… Which of these factors will outweigh the decision of Ertuğrul Bey?
Behind every darkness there is a light…
The new rules of the new lands have produced not good results for Ertuğrul Bey and Kayılar. In addition to the raid of the caravan and the sadness of the martyrs, what news will Ertuğrul Bey receive that will make hopes bloom again in the tent? How will a long-awaited but unexpected development affect the fate of Kayı Obası in the new lands? What will be the shocking development about Turgut Alp, who was seriously injured as a result of the raid of the caravan? In addition to all this, will Haçaturyan, who owes his life to Ertuğrul Bey, be successful in the last step he will take to pay off his debt?
The endless struggle of good and evil…
The fact that the dagger that Batuhan dropped during the caravan raid fell into Aliyar's hands is very confusing for Ural Bey. What will be the step Ural Bey will take while trying to solve the mystery of this event? On the other hand, when he cannot bear to see Ertuğrul Bey even in Hanlı Pazar, how will he behave in the face of the unexpected partnership offer? Will Aliyar, who prevents a conflict between Kayı Obası and Çavdar Obası by preventing the dagger from falling into the hands of Ertuğrul Bey, will be able to open the veil of mystery behind Toktamış Bey's death?
The battle of closed faces continues…
Keeping the inn and the market under his rule, Simon does not stay idle in his secret war for the crusaders while conducting the commercial war openly. Will Simon, who has taken a huge step towards learning the Sultan's spy, achieve his goal? While all these events are going on, what development will bring the trio of Simon, Ural Bey and Ertuğrul Bey around the same table?
Resurrection Dirilis Ertugrul Episode 65 English Subtitles Free Watch Free on KayiFamilyTV, Resurrection Dirilis Ertugrul Episode 65 English Subtitles Free.
Episode Title: Resurrection Ertugrul Episode 65
Air Date: 2016-11-16
Year: 2016