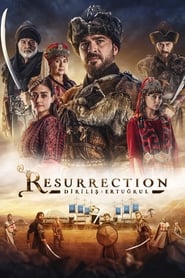 Resurrection Ertugrul Episode 67 English
Resurrection Dirilis Ertugrul Episode 67 English Subtitles on KayiFamilyTV, Watch for free, Resurrection Dirilis ErtugrulSeason 3 Episode 67 Youtube
In This World, There Is No Day Without Trouble In Yigit…
Ertuğrul Bey, who came to the scene after the raid, found his son Gündüz seriously injured. What will be the fate of Gündüz, who was injured as a result of the arrow he ate? What difficult and dangerous steps will Ertuğrul Bey take when Gündüz's pain is on one side and Halime and Aslıhan are in the hands of the bandit on the other?
Great Missions Require Great Costs…
The Kayi alps, who followed the secret meeting of Simon and the spy in the Seljuk Palace, were ambushed by Philip and his men. What price will the Alps pay as they try to escape this ambush? On the other hand, what will Sadettin Dog do in the face of Simon's weakness, who realizes that the secret meeting is being followed?
If the traitor is inside, they say the door won't hold a lock…
Halime and Aslıhan were captured by the bandits as the plan of Ural started to work. What will be the step that Candar Bey and Çavdaroğlu Obası will take in the face of this development? How will Ural get out of this business?
The Enemy of the Strong Will Not Be One…
How will Simon, who learned the news of the raid of the bandits from Peter, use this development for his own benefit? Simon is in a difficult situation against Sadettin Dog after the secret meeting is revealed. What step will he take to fix this weakness? Besides, what will be the big move that Simon, who has been trying to get the Apricots and Ryes against each other from the very beginning, will make in order to realize this goal?
Resurrection Dirilis Ertugrul Episode 67 English Subtitles Free Watch Free on KayiFamilyTV, Resurrection Dirilis Ertugrul Episode 67 English Subtitles Free.
Episode Title: Resurrection Ertugrul Episode 67
Air Date: 2016-11-30
Year: 2016