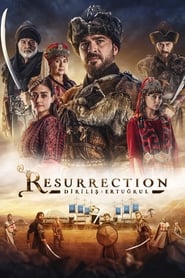 Resurrection Ertugrul Episode 68 English
Resurrection Dirilis Ertugrul Episode 68 English Subtitles on KayiFamilyTV, Watch for free, Resurrection Dirilis ErtugrulSeason 3 Episode 68 Youtube
What will be the fate of the development that shocked both camps?
Simon brought Amanda to Kayı Obses and ignited the wick of the fire that would scorch both camps. Which steps will be effective in whether this fire is ignited or not? What will be Ertuğrul's counter move to Simon's cunning move? On the other hand, will Amanda, who is seen as the sole perpetrator of the crime, be saved by telling Aliyar where the bandits are? What will happen when Amanda is questioned?
Another Dirty Plan That Disrupts the Dirty Plan…
What will Ural do when he finds Amanda in front of him with his hands tied? How will Ural, who sees this unexpected move of Simon as betrayal, react to this betrayal?
Foci of evil sooner or later fall on each other
What will be the development that will upset Simon, who plays Amanda's trump card in his plan to break the two camps against each other? Realizing that Ural's hatred has won with this trump card, will Simon be successful in his plans for Ural? On the other hand, what is the danger that awaits Turgut, who keeps Simon and the Templars under surveillance?
Gönül Ferman Does Not Listen…
How will the events be reflected in the Rye Otten? What will be the shock decision that Candar Bey will take about his children? What will be the surprise development waiting for Aslıhan, who has a deep love for Ertuğrul?
Resurrection Dirilis Ertugrul Episode 68 English Subtitles Free Watch Free on KayiFamilyTV, Resurrection Dirilis Ertugrul Episode 68 English Subtitles Free.
Episode Title: Resurrection Ertugrul Episode 68
Air Date: 2016-12-07
Year: 2016