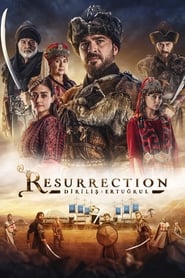 Resurrection Ertugrul Episode 70 English
Resurrection Dirilis Ertugrul Episode 70 English Subtitles on KayiFamilyTV, Watch for free, Resurrection Dirilis ErtugrulSeason 3 Episode 70 Youtube
Undoubtedly, Allah Promised You Conquest…
Simon poisoned Ertuğrul by using Turgut's loyalty, but Ertuğrul managed to survive this assassination. Ertuğrul Bey, who decided to raid Hanlı Pazar by using this assassination attempt in his favor, will he be able to succeed in this raid and conquer Hanlı Pazar? Knowing that the Kayıs will raid, will Simon be able to avenge Maria from Turgut and all Kayıs despite Ertuğrul?
The Struggle of the Mind and the Heart…
Halime, who has to keep Ertuğrul Bey's secret, has a hard time in the face of Hayme Ana's tears for Ertuğrul. Stuck between Hayme Ana's tears and Ertuğrul's plan, will Halime be able to protect Ertuğrul Bey's secret? Besides, what will be the reaction of the Kayıs who see Ertuğrul Bey, who is thought to be dead, in front of him again?
Crocodile Tears Mixed with Real Tears…
Ertuğrul Bey is not the only oba Kayı Obası. Çavdar Obası also mourns the unexpected death of Ertuğrul. However, which strategy is Ural pursuing, which aims to take advantage of the difficult situation of the Kayıs? What decision will Candar Bey, who aims to marry Aslıhan to Ertuğrul, after the developing events? While all this is going on, will Aliyar, who does not let go of the similarity in the poisonings of Toktamış and Ertuğrul, will be able to find the trace of his brother Ural?
Resurrection Dirilis Ertugrul Episode 70 English Subtitles Free Watch Free on KayiFamilyTV, Resurrection Dirilis Ertugrul Episode 70 English Subtitles Free.
Episode Title: Resurrection Ertugrul Episode 70
Air Date: 2016-12-21
Year: 2016